Article
Essar Steel commissions Phase I of India's largest Pellet Plant
Friday, 13 April 2012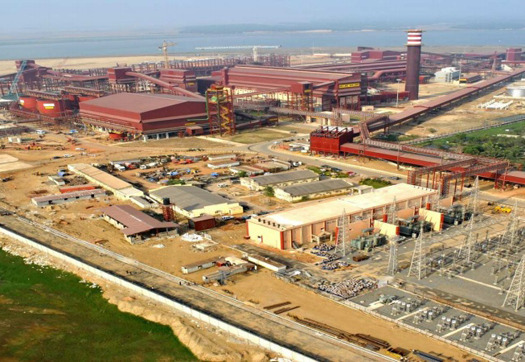 MUMBAI (IN) – Essar Steel has commissioned a 6 MMTPA pellet making facility in Odisha. This is the first phase of the 12 MMTPA pellet plant to be commissioned by 2013. Essar Steel is investing Rs. 4,200 crore to set up an integrated facility as part of its ongoing investments in the state of Odisha. The integrated facility includes a 12 MMTPA iron ore beneficiation plant at Dabuna and a 253 km slurry pipe line connecting Dabuna and Paradip. It will reduce the operating costs per tonne and improve the cost competitiveness. The slurry pipeline apart from being a cost reduction initiative is also the most environment friendly way of transporting raw material for the pellet plant.
The pellet plant in Paradip along with Vizag's capacity of 8 MMTPA will fully secure the iron ore requirements for Essar Steel in India. Chairman of Essar Group, Mr Shashi Ruia, said _'Odisha is emerging as a big destination for investments in the country and Essar is committed to be a part of this growth story. For Essar, this pellet plant is a crucial piece in its quest to achieve complete vertical integration._' He gratefully acknowledged the support given by the state government under the dynamic and visionary leadership of Chief Minister Shri Naveen Patnaik.
Mr Dilip Oommen, MD & CEO, Essar Steel said: 'This will secure a sustainable raw material source at the right cost and we have ensured that the safety and environmental aspects are given due importance in the design, construction and operations of the plant'. The Paradip pellet plant is the second significant milestone for Essar Steel this year after it announced the expansion of steel capacity to 10 MMTPA at Hazira, Gujarat.
Once the 12 MMTPA Paradip facility is completed, along with pellet capacity of 8 MMTPA at Vizag, Essar Steel will have a total pellet making capacity of 20 MMTPA making it the largest pellet producer in the country. The entire concept and design of the plant is environment friendly. Essar Steel is setting up a iron ore beneficiation plant at Dabuna to upgrade the quality of low grade iron ore fines from 54% fe content to over 63% fe content. The iron ore fines will then be supplied through 253 km slurry pipe line from Dabuna to Paradip.
Raw Material Security and Flexibility
Essar Steel has adopted an integration and securitisation strategy that has enabled it to keep its costs low. The bulk of its iron ore needs have been secured through offtake agreements with key players like NMDC, private miners in Odisha, and captive mines in Jharkhand and Chhatisgarh. In addition, an iron ore beneficiation plant will be set up by the company to facilitate usage of low grade iron ore fines abundantly available in the country. The offtake agreements, combined with the captive mines and easy availability of low grade iron ore dumps, provides Essar the necessary raw material security to operate the pellet plant in the most cost-effective manner.
for the presentation
© Essar Steel