NürnbergMesse GmbH
Trends for Food and Feed Specialists at POWTECH 2014
Monday, 25 August 2014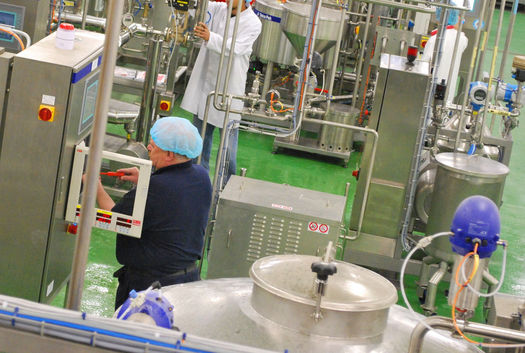 NUREMBERG (DE) - Almost every recipe in the food or feed industry uses ingredients in powder or granulate form.
The world's largest overview of the handling of powders, granulates and bulk solids will again be available at POWTECH, held at the Nuremberg exhibition centre from 30 September to 2 October 2014. More than 700 exhibitors from more than 25 countries will be showing the latest technological trends for all aspects of mechanised processes in the food and feed industry, including flavour and aroma-conserving cold grinding.Visitors can buy tickets starting on 19 August 2014 at www.powtech.de/ticketshop. Buying tickets online gets you into the trade fair faster and lets you bypass long queues at the box office.
The food industry has been using the advantages of aroma-conserving cold grinding for more than 40 years now, especially for spices. Seasonings get their flavour from essential oils. Industry relies on advanced cold-grinding technology to preserve the full quality of those flavours. It helps preserve 30 to 40 per cent more aroma, flavour and thus quality in spices.
In cold grinding – also known as cryogenic grinding – liquid nitrogen (or less commonly, dry ice) is used in a self-contained system for process conditions that preserve aromas. This form of mechanical comminution also reduces clumping in products containing oils and fats. It makes it possible as well to finely grind delicate products without altering their properties, for example as a result of oxidation processes.
An exchange of experiences among cryogenic grinding experts
Cryogenic grinding of delicate or difficult products requires not just a precise design of the mill equipment, but well-coordinated supplies of cryogenic gases, or other refrigerants, as well as a regulation of the refrigerant flow. POWTECH, the world's leading trade fair for processing, analysis and handling of powder and bulk solids, again offers the ideal forum not just for initial contacts, but also for intensive exchanges of experience among cold-grinding experts. Some 60 of the more than 700 exhibitors in Nuremberg will be showing systems, equipment and supplies for cold grinding. In addition to the technology leaders in communution technology, these also include global market leaders in industrial gases. This, probably the most comprehensive survey of technology in cryogenic grinding, means that POWTECH in Nuremberg also reflects a complete range of products for this specialised field of mechanical processing in the food industry.
The whole world of mechanical process engineering in five halls
Not only grinding but sifting, mixing, conveying, metering and agglomeration are indispensable parts of almost any food or feed production system. Planners and operators who come to Nuremberg will find comprehensive information – compactly presented in five halls – about the latest new developments and refinements in all these processes.
And there's a special advantage for process specialists from the food and feed industry: in a single visit, you can find out about the latest developments not just in powder and bulk solids technology, but in sterile technology. TechnoPharm, with some 250 exhibitors from about 15 countries, offers an ideal complement.
Not a dusty old theme: Safety technology
At POWTECH, production engineers, process technicians and systems planners in the food and feed industry will find not just the latest trends in process and production optimisation, but also a focus on plant safety and explosion prevention. So many materials are processed in powder form during production processes, or finish processing as powders or granulates, that dust can very readily increase safety risks all by itself.
The group of safety technology vendors, with about 350 exhibitors, is one of the most important at POWTECH. More than 200 of these exhibitors will be showing innovative solutions for electric and non-electric explosion protection. A whole special forum on the second afternoon of POWTECH will even be devoted to efficient explosion protection. Technical presentations on fire and explosion protection will be followed by a panel discussion and an exclusive guided tour by trade journal publisher Vereinigte Fachverlage. Also worth seeing are the live explosions in the exhibition centre parklands.
Plant safety, emission protection and of course occupational safety are other important fields on offer that help make POWTECH one of the most important trade fairs for specialists in the food and feed industry in particular.
Forum on "Gentle conveying of solids"
It's not uncommon for the food and feed industry to use sensitive bulk solids that must be handled delicately and transported gently, without segregation, from point A to point B. A special lecture series by the Konradin Verlag publishing house on the first day of the fair will provide the POWTECH forum with a complete view of current technologies.
More information at: www.powtech.de/en
Upcoming events for experts in powders and bulk solids:
30.09.–2.10.2014 POWTECH, Nuremberg, Germany
14.–16.10.2014 IPB Conference & Exhibition, Shanghai, China
18.–20.02.2015 Powder & Bulk Solids India, Mumbai, India