Article
Exhibitors declare SCHÜTTGUT Dortmund the "must-attend" event to meet buyers
Wednesday, 14 November 2012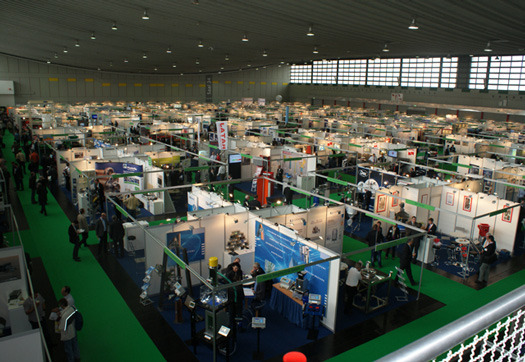 BRUSSELS (BE) - With 25 percent more visitors than last year, SCHÜTTGUT und RECYCLING-TECHNIK 2012 (Messe Dortmund, 7 & 8 November) was rated a huge success by the 353 exhibitors.
This was the fifth edition of SCHÜTTGUT, which has developed into a significant and dependable event in the bulk solids community's calendar, both in Germany and, as part of the easyFairs Solids European Series, internationally.
Most exhibitors have already booked their stands for 2014, with many upgrading their involvement in the event. Stefan Penno, Managing Director of REMBE GmbH commented, "As a longstanding exhibitor we use SCHÜTTGUT extremely successfully to sell our products and services – we made 32 completely new business contacts this year (and 70 contacts altogether), decision makers with concrete buying intentions. For 2014 we have therefore registered for a premium partnership, which puts down a marker in the solids sector."
"For two years we have now exhibited at SCHÜTTGUT in Dortmund and it has already become for us a must-attend event," said Christoph Hillebrand, Business Development Weighing Technologies, Siemens AG Industry Sector. "Moreover, in this year we had many national and international visitors at the stand. We were able to make some highly valuable contacts." In total, 4300 invitation-only visitors attended.
Meanwhile RECYCLING-TECHNIK, with more than 100 suppliers of recycling products and services celebrated a sensational premiere. Both of these exhibitions provide a platform not just to exhibit products but also to bring buyers and suppliers together, a unique opportunity to initiate new business and to close sales.
"Located at the heart of the Ruhrgebiet and closely associated with the bulk solids industry, Dortmund is the ideal location for us and has been a critical success factor for these shows," said Siegbert Hieber, Managing Director of easyFairs Germany.
The next edition, which will take place at the same venue on 21 & 22 May 2014, will offer participants even more, with a greater focus on networking. This will include a central business bar, two technical forums, a high-profile integrated conference and a VIP and speakers' lounge.
"With these new features and further development of the stand module design we are making the shows even more attractive for exhibitors and visitors," said Daniel Eisele, Event Director for SCHÜTTGUT and RECYCLING-TECHNIK. Most of this year's exhibitors have already rebooked for 2014.
easyFairs is also extending the event to embrace the topic of multimodal transport.
Inaugural meeting of Deutscher Schüttgut-Industrie Verband
SCHÜTTGUT 2012 hosted the first meeting of the recently launched Deutscher Schüttgut-Industrie Verband (German Bulk Solids Industry Association). There are more than 1,000 companies active in this sector in German-speaking countries, employing 60,000 people. The association will serve as an umbrella organisation representing the industry's interests and promoting professional development and qualification of executives, technical experts and apprentices in the bulk solids sector.
The founder members are Michael Hengl (board member), Managing Director Europe,
Martin Engineering GmbH
, Stefan Penno (board member), Managing Director,
REMBE GmbH
, Jochen Baumgartner (board member), Managing Director, BSB & P Communication Group, Stefan Zöbisch (board member), Sector Manager, Endress + Hauser Messtechnik GmbH + Co. KG, Daniel Eisele (technical advisor), Event Director, SCHÜTTGUT, easyFairs Deutschland GmbH, Wolfram Kreisel (board member), Managing Director,
Kreisel GmbH & Co. KG
and Reinhard Wöhlbier (technical advisor), owner and manager of the solids sector portal www.bulk-online.de
Upcoming shows in the Solids European Series:
SOLIDS Belgium 2013, 27 & 28 March, Solids Antwerp 2013, http://www.easyfairs.com/solids-be
SOLIDS Poland 2013, 2 & 3 October, SyMas 2013, Kraków, www.easyfairs.com/pl/symas2013
SOLIDS Netherlands 2013, 2 & 3 October, Solids Rotterdam 2013, http://www.easyfairs.com/solids-nl
SOLIDS Switzerland 2013, 13 & 14 November, SCHÜTTGUT Schweiz 2013, Basel, www.easyfairs.com/schuettgutschweiz
SOLIDS Germany 2014, 21 & 22 May, SCHÜTTGUT & RECYCLING-TECHNIK 2014, Dortmund, www.easyfairs.com/schuettgut-de
© easyFairs