Vogel Business Media GmbH & Co. KG
Euroports Holdings to Present at BulkSolids Europe 2012 Conference
Monday, 17 September 2012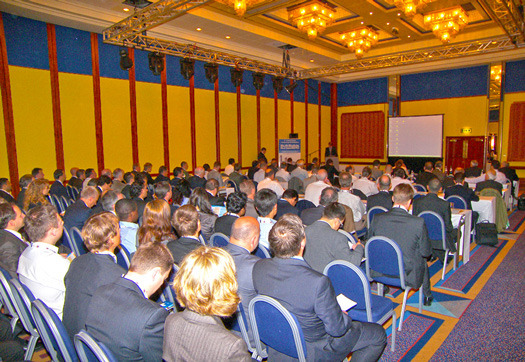 WÜRZBURG (DE) - On October 11th and 12th the BulkSolids Europe 2012 Conference will take place in Berlin, Germany.
The international conference on storing handling and transporting bulk is focused on cost- and energy efficient and reliable raw material handling in mining, dry bulk logistics, power generation, and other industries that move, store and process large volumes of bulk materials.

Mr. Pedrosa, Group Asset Engineer of Euroports Holdings S.a.r.l., will start the session on Dry Cargo Handling with his presentation "Bulk Handling Operations: Best Practice Towards Excellence." Euroports is one of the largest port operators in continental Europe and handles some 61 million tonnes annually with a strong focus on general cargo and dry bulk. The company owns 21 port terminal operations in Europe plus two in China and operates a further 10 sites on behalf of its industrial customers.

Power Plant Logistics and Mining in Europe
According to Dr. Andreas Schmidt, Member of the Management Board of Rhenus Port Logistics and Keynote Speaker at BulkSolids Europe 2012, the logistics sector has to continually adapt to the changing demands of its customers and the markets, and companies in Europe face very special adjustment processes as a result of the change in energy policy. "This policy gives rise to a rejection of fossil energy sources, and this will have an appreciable effect on logistics services providers too," he says.

In his keynote he uses the coal logistics provided by Rhenus AG & Co. KG at its business site in Wilhelmshaven as one example to illustrate how flexible logistics companies have to be in the light of these conditions. Dr. Schmidt: "coal was viewed as indispensable in the energy mix for Germany just a few years ago, and many new coal-fired power stations were being planned. As a result, Rhenus made considerable investments in coal transhipment facilities - now the company has to change its thinking."

In influence of EU policies on the raw material supply in Europe will also be one of the topics of the second Keynote of the conference entitled "Outlook on the EU's raw materials supply. EU policies and industrial developments" which will be presented by Dr. Corina Hebestreit, Director of the European Assiciation of Moining Industries, Metal Ores & Industrial Minerals.

Workshop "Explosion Safety in the Heavy Bulk and Power Generating Industry"
In addition to the various sessions on bulk materials handling, BulkSolids Europe 2012 also features a special Workshop "Explosion Safety in the Heavy Bulk and Power Generating Industry." The workshop, organised by INDEX forms a third stream on the first day of the conference and contains six in-depth presentations on explosion and fire protection issues.

The complete conference programme, additional information on the conference venue, hotel booking, travelling, etc. are available on www.bulksolidseurope.com. Register now.