Acmon Group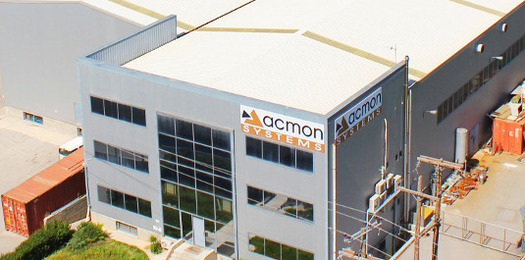 Acmon Group provides Complete Industrial Solutions for more than 25 years. The success of our company is shown through the extended portfolio of satisfied customers. 92% of our business comes from repeat clients. We are proud for the successful course in the Greek market, while our exports reach 50% of the annual turnover. Vital parameters for continuing improvement are Quality, Technology, price/value ratio.

Acmon Group consists of four companies, each one specializing in a specific industry sector, providing trustworthy solutions.

ACMON Systems specializes in bulk handling systems for granule or liquid materials providing solutions from the raw material receive in silos, bags, big bags etc conveying and dosing systems for a big list of materials.

ACMON Weighing & Automation specializes in industrial weighing systems as well as automation systems for the industry.

ICON Systems specializing in designing, manufacturing and delivering systems that automate the packaging and conveying of the final products (systems for conveying, palletizing and packaging). We are designing either conventional systems as well as robot systems.

ACMON Data specializes in developing and implementing IT solutions for the industry in order to cover needs like Production control and Warehouse management. Through these software modules our TRACEPro totally covers the needs of traceability, data collection, bar coding and labeling.

Our accumulated experience and close co-operation with well-known manufacturing companies from around the world as well as our skilled personnel is the best guarantee to our clients for reliable and technically correct solutions.
Company
Acmon Group
Division
Head Offices
Address
57th klm Athens-Lamia National Rd
ZIP Code + City
32011 Oinofita Voiotias
Country
Greece
Phone number
0030 22620 31405
Fax number
0030 22620 56344
Email
info@acmon.gr
Website
www.acmongroup.com
| Contact | Email | Phone number | Department | Position |
| --- | --- | --- | --- | --- |
| Mr. Kiriakos, Stathis | stathis_kiriakos@... | 0030 22620 31405 | Marketing Department | |