Article
Adani Ports and SEZ signs concession agreement to develop Dry Bulk Terminal at Kandla Port
Wednesday, 11 July 2012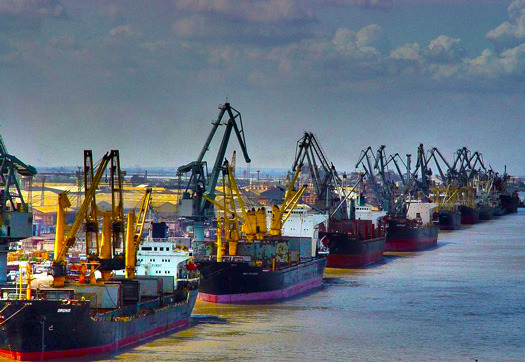 AHMEDABAD (IN) – Adani Ports and Special Economic Zone (APSEZ), India's largest private multi-port operator and part of the Adani Group, a global integrated infrastructure player, today said its subsidiary Adani Kandla Bulk Terminal Pvt. Ltd. has signed a concession agreement with the Kandla Port Trust, to set up a dry bulk terminal at the Kandla Port on build, operate and transfer basis, thus emerging as the only private sector port operator with presence across six ports in India.
'This is a testimony of the Government of India's trust and confidence in Adani and its execution and operating skills to set up world class port infrastructure. This modern and mechanized cargo bulk terminal will act as a game changer for exim trade of the north-west hinterland and contribute to Adani's goal of reaching 200 million tonnes of cargo handling by 2020.' said Rajeeva Sinha, Wholetime director at APSEZ. 'This facility will reduce cargo handling cost at Kandla Port due to increased productivity and proximity to cargo generating centers.' Mr Sinha added.
The project, which will be the one of largest bulk terminal on the west coast of India, will have a capacity of over 20 million tonnes a year and will be built at the cost of about Rs 1,200 crores approx and be commissioned within a period of 24 months. The dry bulk terminal will be located off Tekra near Tuna outside Kandla Creek at the Kandla Port, India's number one port by volumes. The terminal, will handle cargo like coal, fertilizer, salt, minerals and other agri-products. With this, APSEZ's bulk cargo capacity gets enhanced and it can now tap the ever increasing cargo of the hinterland as well as at Kandla. The existing customer base, including the large trader community at Kandla as well as customers at the nearby ports, can now enjoy a hassle free, mechanised handling services of Adani at the new bulk terminal.
The direct berthing at Tuna would address the present issues at Kandla relating to anchorage/barge operations which lead to increased cost per tonne, double handling, loss of cargo and lower productivity. The automated and mechanised processes at the new terminal at Tuna would ensure transparency.
APSEZ spearheads Adani's logistics business which includes setting up world class port infrastructure, special economic zones and multi-modal logistics such as railways. It is now the only private port infrastructure company to operate and construct ports and terminals across six locations in India ' Mundra, Dahej, Hazira and Kandla in Gujarat, Mormugao in Goa and Visakhapatnam.
© Adani Ports