Article
Port of Antwerp opens with strong first quarter in container handling
Thursday, 26 April 2012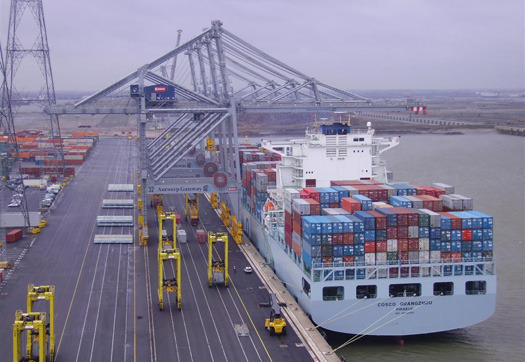 ANTWERP (BE) – The port of Antwerp handled 46,322,290 tonnes of freight in the first three months of this year, down 2.2% on the same period in 2011. Container freight did best, despite the days of strikes, expanding by 2.9% to 27,000,161 tonnes. The main losers were steel products (down 20.3%) and liquid bulk (down 13.5%). The decline in the latter is due to the Belgian Refining Corporation (BRC) halting its activities.
In terms of tonnage, the Antwerp container volume in the first quarter of this year grew by 2.9% to 27,000,161 tonnes. In the same period last year the volume was 26,240,633 tonnes. In terms of standard containers (twenty-foot equivalent units) the volume was 2,188,185 TEU. That is 0.7% more than in 2011, when 2,172,323 TEU was handled. The Antwerp container handlers have never before had such a good first quarter. The next quarter also looks very promising, with the arrival of two Far East services: the CKYH NE4 and the CES 2 operated by Evergreen and by China Shipping respectively.
The volume of liquid and dry bulk decreased overall by 8.9%, to 15,667,641 tonnes. Liquid bulk was down by 13.5%, to 10,342,277 tonnes. The decline in imports of crude oil was particularly marked, falling by 91.6% to 105,766 tonnes due to the halting of production at BRC. In the meantime volumes of oil derivatives and chemicals also fell, respectively by 3.1% to 7,580,213 tonnes and by 8.0% to 2,537,357 tonnes. Dry bulk for its part experienced a rise of 1.4%, to 5,325,364 tonnes. In this category there were increases in the volume of coal (up 34.5% to 1,733,028 tonnes) and grain (up 18.7% to 323,955 tonnes), while contractions were suffered by fertilisers (down 19.7 to 1,074,898 tonnes) and ore (down 29.9% to 663,743 tonnes).
In the conventional/breakbulk field 2,529,146 tonnes of freight was handled, a decrease of 13.6% compared with 2011. The drop is mainly due to the lower volume of steel, reflecting the current economic climate. During the first quarter of 2012 a steel volume of 1,552,280 was handled, which is 20.3% less than the 1,947,487 tonnes for the corresponding period in 2011. For the rest there were mixed results for fruit (down 7.0% to 314,999 tonnes), paper and cellulose (up 9.6% to 210,302 tonnes), granite (down 44.1% to 46,151 tonnes) and non-ferrous metals (up 29.2% to 91,531 tonnes). The ro/ro volume for its part is up by 12.3% to 1,125,342 tonnes, with the number of cars handled growing by 14.8% to 289,842.
During the first quarter of 2012 there were 3,629 calls by seagoing ships in the port of Antwerp, down 3.0% on the same period last year. On the other hand the gross tonnage was up by 0.4%, to 77.5 million.
© Port of Antwerp