Combustible Dust Policy Institute
Do You Know the Burning Behavior of Your Dust?
Monday, 13 February 2012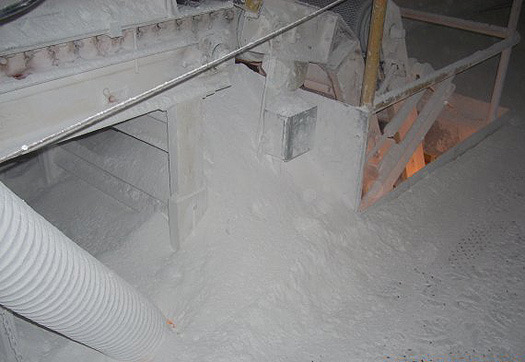 A recent news account detailing a rapidly spreading combustible dust related fire the length of a paper machine (approximately 100 meters) in a paper mill in Menasha, Wisconsin brings to mind combustible dust burning using VDI 2263 guidelines. Many stakeholders are unaware whether fire spreads rapidly when combustible dust ignites during bulk solids handling and processing.
Burning behavior (BZ) of combustible particulate solids is an important property. A property that is evaluated when developing engineering and administrative control measures for protecting the work-place from combustible dust fire and explosion hazards. Burning behavior can be as harmless as salt (BZ 1) or violent as black powder (BZ 6). Where does your dust fit between the two?
Knowing fire spread characteristics with BZ classification (severity of consequence) acquired from VDI 2263 test results assist safety professionals with developing a proactive housekeeping strategy. This strategy includes removing excessive dust layers from hard to reach and unseen overhead areas such as suspended ceilings, conduits, and structural girders. It is these overhead areas where fire can spread rapidly.
In 2008 the Combustible Dust Policy Institute (CDPI) researched numerous combustible dust media accounts. Research results determined approximately 80% of combustible dust related incidents are fires. A majority of these did not result in fatalities, serious injuries, or major property damage. In many instances, non-consequential fires are precursors to catastrophic combustible dust fires and explosions.
For example, the U.S. Chemical Safety Board (CSB) released the Hoeganaes Case Study in January 2012 following several catastrophic flash fires at the metal powder facility during 2011. This study noted Hoeganaes had over two dozen prior incidents during a twelve year time span. The majority of which did not result in severe consequences. Yet they provide valuable insight.
All combustible dust related fires must be investigated immediately to determine ignition source, area of origin, and equipment involved in ignition. Acquiring information on root and contributing causes of non-consequential fires assists stakeholders in preventing and mitigating future incidents that could escalate into a catastrophic event.
There is a wealth of information on the importance of determining minimum ignition temperature (MIT) and minimum ignition energy (MIE) of combustible dust. In contrast, combustibility testing for burning behavior (BZ number) is largely ignored during a hazard assessment.
An excellent overview regarding burning behavior can be found in 'BIA Report 13-97: Table of combustion and explosion characteristics of dust." When populating the BIA .pdf file from resource links below it is very confusing when locating specific BZ numbers since each substance is spread across two data pages. With a little effort you'll find a pot of gold at the end of the rainbow! BZ numbers are on the second page of data, last column on the right.
Understanding burning behavior of combustible particulate solids is only one tool in a hazard assessment, coupled with identifying and evaluating ignition sensitivity and explosion severity. While reviewing literature on fire/explosion properties, users are cautioned that published laboratory results are only generic guidelines. Every dust is unique with different particle size, shape, moisture content, chemical composition, etc. Therefore, have your dust tested for its unique fire and explosion characteristics.
Resources:



About John Astad
Director/Research Analyst of the Combustible Dust Policy Institute in Santa Fe, Texas, researches global combustible dust related fires and explosions that occur in the manufacturing, non-manufacturing, and industrial sectors. He is dedicated to educating stakeholders on the prevention and mitigation of combustible dust related fires and explosions in the workplace.
Professional associations, academia, trade organizations, and governmental agencies rely on incident data Mr. Astad's research provides on probability of occurrence and severity of consequence of combustible dust related fires and explosions. In 2009, Mr. Astad's incident data was utilized in the OSHA Combustible Dust Advanced Noticed of Proposed Rulemaking (ANPRM) in conjunction with CSB incident data.
Mr. Astad attended University of Houston-Clear Lake with a B.S. in Business and Public Administration, majoring in Environmental Management. Mr. Astad has contributed many informative articles on combustible dust related fires and explosions and has presented at numerous OHS conferences throughout North America. Mr. Astad is currently researching the prevalence of non-consequential combustible dust fires, which are precursors to secondary catastrophic dust explosions.
© John Astad / HOLLANDSCH Digital Media
© Picture Credits: Jon Barrett /