Article
Ireland overtakes Singapore to become the world's second most globalised nation
Thursday, 26 January 2012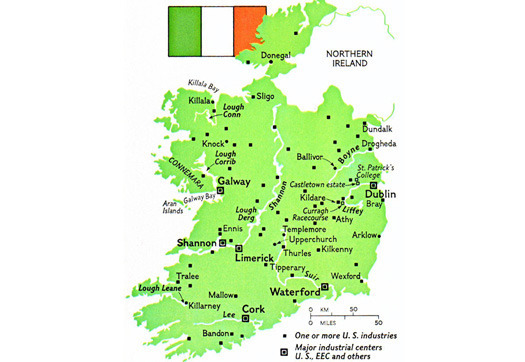 LONDON (GB) – Ireland is the world's second most globalised nation, and the most globalised nation in the Western world according to Ernst & Young's Globalisation and the Changing World of Business report which has been released to coincide with the World Economic Forum in Davos. The report also confirms that Ireland is forecast to become the most globalised nation by the end of 2011, a position it will retain until at least 2014.
The global report, drafted in collaboration with the Economist Intelligence Unit (EIU), also confirms that Ireland is forecast to displace the current leader, Hong Kong, to become the most globalised nation in the world by the end of 2011, a position it will retain until at least 2014. After a brief pause in 2009 and a modest rebound in 2010, the world's largest 60 economies will continue to globalise steadily between now and 2014, driven by the continued global economic recovery, technology innovation and the rise of the emerging markets.
The current top ten most globalised nations now include (1) Hong Kong, (2) Ireland, (3) Singapore, (4) Denmark, (5) Switzerland, (6) Belgium, (7) Sweden, (8) Netherlands, (9) Hungary, (10) Finland. In 60th position, the least globalised nation on the index is Iran, closely followed by Algeria and Venezuela.
The index has five measurements to assess a country's individual global ranking including: its openness to global trade, global capital movements, global exchange of technology and ideas, global labour movements and cultural integration. Each of the criteria's weighting was validated by the 1,000 global business leaders surveyed.
Exports key to current and future ranking
The report finds that the increase in Ireland's score between 2009 and 2010 was mainly the result of greater movement of goods and services as a proportion of GDP. Total trade (exports plus imports) was around 197% of Ireland's GDP in 2010, compared with 166% of GDP for trade in 2009. Exports of chemicals have grown particularly strongly.
In addition to improving its overall globalisation ranking, Ireland achieved number one positions in two of the five categories measured; international exchange of technology and ideas ' largely attributed to greater numbers of internet subscribers, and international exchange of labour. It was noted however, that Ireland's overall labour result fell in the last 12 months as a result of lower net migration (4.2 per 1,000 people in 2010 compared with 9.1 in 2009).
Ireland's overall globalization is forecast to improve steadily between 2010 and 2014 with the country taking the top position as a result of further increased movement of goods and services, with an estimate of trade rising to the equivalent of over 230% of GDP in 2014. Cultural integration will also increase, with total tourism steadily rising from 3,400 per 1,000 of its population in 2010 to 3,600 in 2014.
Speaking on the Irish results, Mike McKerr, Managing Partner, Ireland, with Ernst & Young comments, "Although domestic economic conditions remain extremely challenging, we must continue to recognise that Ireland retains core strengths which are key to recovery. Our nation's globalisation ranking demonstrates how well positioned Ireland is to maximise opportunities within international economies.'.
He adds, "The enormous opportunities for Ireland in emerging markets, the ever increasing power of the technology sector and a gradual international recovery will ensure that globalisation continues to deepen in Ireland over the coming years. It is also interesting to see the role of tourism, a more traditional business sector, helping to further enhance our position.'
However, McKerr cautions that the current political uncertainty must be addressed quickly and effectively in order to avoid any international concerns regarding Ireland's reputation as a good country to do business with. _'The fact that Ireland has become a front page story for all the wrong reasons in recent times is cause for concern ' particularly in terms of continuing to protect our reputation as an attractive location for foreign direct investment. With so much of Ireland's economic recovery subject to us maintaining a strong global brand, anything which puts that brand at risk must be tackled quickly_'.
Globalisation and economic growth
The speed with which different parts of the world are recovering from the economic downturn, and the subsequent policy responses they are making, is undoubtedly placing some stress on globalization but, as our index and survey suggest, those are temporary concerns and the long-term trend continues to be for closer integration. McKerr comments "It is incumbent on business and governments to continue to make the case for globalisation as a positive force for economic and social good and avoid any descent into protectionism.'
What does it mean for business?
The future challenge for business will be to strike the balance between these opposing forces of globalisation and national markets and achieve both scale and local relevance. McKerr explains, 'Business opportunities are now distributed more evenly around the world than at any time in history."
The convergence of market potential between the developed and emerging world means that the number of markets that multinationals must consider as 'strategic' has increased. "But, at the same time, the nature of the opportunities in those markets can be fundamentally different. In the developed world, companies have well established business models and asset bases but face weak growth prospects. In the emerging economies, this situation is often reversed.'
Companies must now operate in a 'polycentric world' in which there are multiple but divergent spheres of influence in both developed and developing markets. It is not just opportunities that are located in these multiple centres. Competition, capabilities and resources can all now reside anywhere in the world and travel in new, sometimes unexpected directions.
Long-term winners?
McKerr says that to be a long-term winner in this new globalised world, multinationals must essentially operate at multiple speeds in order to fit their strategies to both fast-growth and slow-growth markets. "Success in the former requires rapid-fire decision-making and the capacity to experiment, to learn and scale at speed. For large multinationals, this may require a re-think of reporting lines in order to bypass bureaucracy and maximise agility. Developed markets, on the other hand, will require a different approach, which is more dependent on efficiency and incremental growth.'
He concludes, "To succeed in a polycentric world requires companies to focus on four priorities: corporates will have to redefine global and local, develop a 'polycentric' approach to innovation, rethink relationships with government and tax administrations and build leadership teams with strong global experience.'
Source:
© Hollandsch Digital Media