Article
Free-Standing, Compact Electro-Hydraulic Actuator Delivers High Force
Tuesday, 06 December 2011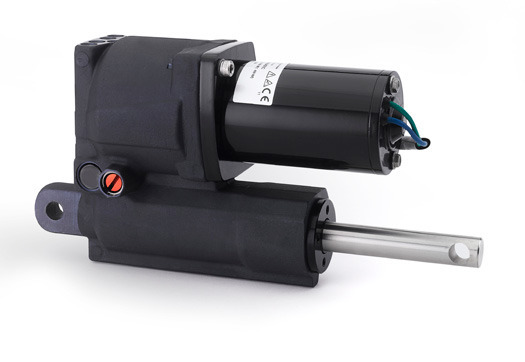 WARWICK (GB) ' The new Compact EHA from Parker Hannifin, the world's leading diversified manufacturer of motion and control technologies, is a fully self-contained linear actuator which delivers up to 22kN of force. Designed for applications where space is limited, this innovative electro-hydraulic actuator is available for 12V or 24V DC operation. With simple plug 'n play functionality, Compact EHA is ideally suited to applications such as hospital bed and ambulance cot adjustment, marine hatch opening, solar panel positioning and agricultural vehicle attachment locks.
In comparison with other linear motion technologies, Compact EHA offers exceptional power density from a small envelope. For the design engineer, this results in simplified machine design while, for the machine builder, construction time is reduced. Unlike conventional electro-mechanical drives, Compact EHA has no gears or backlash and so is unaffected by wear and loss of positional accuracy. Simple switching circuitry speeds installation and commissioning and allows the unit to be stopped in any intermediate position. Typical speeds are in the range 40-60mm/s with over 100mm/s available subject to load conditions.
Compact EHA comprises a complete hydraulic circuit in miniature, contained within a lightweight monobloc aluminium housing. The powerful DC motor drives a reversible pump which is fully enclosed within the fluid reservoir, supplying the double-acting hydraulic cylinder with fluid through integrated pressure relief and check valves. Trunnion pin mounting holes are incorporated into the base end of the housing and the end of the piston rod, so that installation comprises only inserting mounting pins and connecting the motor leads. Flushed and filled on assembly, the unit is maintenance-free and is rated to IP67 for use in cleanliness-critical environments. With a stainless steel piston rod and anodised aluminium housing, Compact EHA offers exceptional corrosion resistance and has achieved 1000 hours salt spray testing in accordance with ASTM B117.
A wide range of motor, pump, bore and stroke options allows the machine designer to match Compact EHA to the demands of different applications. Where the application requires complete cable harnesses, switchgear and power supplies, complete Compact EHA solutions are available.
About Parker Hannifin
With annual sales of $10 billion in fiscal year 2010, Parker Hannifin is the world's leading diversified manufacturer of motion and control technologies and systems, providing precision-engineered solutions for a wide variety of mobile, industrial and aerospace markets. The company employs approximately 55,000 people in 46 countries around the world. Parker has increased its annual dividends paid to shareholders for 54 consecutive years, among the top five longest-running dividend-increase records in the S&P 500 index. For more information, visit the company's web site at , or its investor information site at .
© Parker Hannifin