Martin Engineering
Air Cannon System incorparates advanced Valve Design with Multi-Port technology
Tuesday, 22 November 2011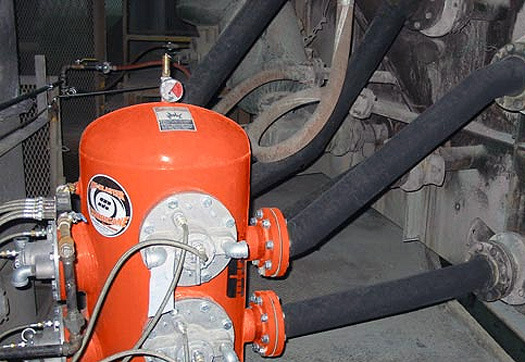 NEPONSET (US) – A world leader in bulk material flow technology has introduced a multi-port air cannon system featuring advanced valve design. The BIG BLASTER® CATEGORY 5 HURRICANE Air Cannon System from Martin Engineering is a multi-valve air cannon solution that provides up to five application points utilizing a single 60-gallon reservoir. The air cannon system helps protect components and workers from hazardous environments and improves flow efficiency, delivering unsurpassed flexibility and durability.
Efficient material flow is maintained with a design that operates proficiently at five application points from a single air source, requiring fewer parts and less maintenance. The five independent valves are housed within a single tank. If one valve requires service, the multiple-valve air cannon system continues to function in nearly all cases, improving reliability.
The centralized location of working components away from the point of application allows for shelter from exposure to high temperature environments and process dust. A single remotely located reservoir tank also eliminates the need to hang numerous heavy individual tanks on vessel walls. This is advantageous where space is limited, where safety concerns may be a factor, or in locations where access is difficult or hazardous.
The unit has an operating range of 40-150 psi. Output force and duration range are adjustable through the integration of urethane bumpers to fine-tune the length of the piston stroke to reduce or increase the force of the air blast. The system is suitable for use wherever traditional single valve/tank assemblies are installed, and offers many advantages over the use of multiple individual air cannons, particularly in challenging applications.
Blasts are delivered from the tank to the application point via hard pipe in standard applications to reduce line loss. Flexible hose is available in maximum 36-inch sections, and valves are available in both imperial and metric measurements, with tanks manufactured to local code.
Martin Engineering's HURRICANE (positive-pressure firing) and TYPHOON (negative-pressure firing) valves improve responsiveness and virtually eliminate the possibility of misfiring. The internal/basket valve design of the HURRICANE improves air-use efficiency and increases force output. Specific launch dates of this new product may vary slightly, depending on the country / region.
© Martin Engineering