AViTEQ Vibrationstechnik GmbH
The New Reference In The Chemical Industry
Friday, 05 October 2018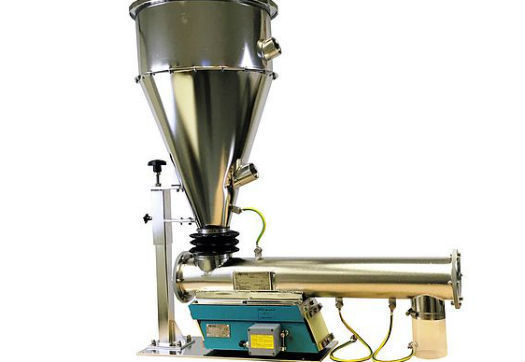 HATTERSHEIM (DE) - Aviteq launched a small ATEX tube feeder for Silicon granulates.
Capacity
4 to 8 kg/h | bulk: Flowable and free-flowing Silicon granules | density (t/m³): 1 kg/l
Function
Flowable and free-flowing silicon granules must be conveyed within an ATEX-Zone 22 area. In this case, the material should be fed via a feed bunker with layer height adjustment and foreign body protection on the hopper inlet. The material is metered from the closed system into the production process.
Solution
The customer has purchased a small tube feeder that is driven by a magnetic drive, type eKF6 / 630 / D114-T50, which is certified to be operated in the ATEX Zone 22. The bunker is not closed and has foreign body protection for safety reasons. The round outlet is sealed by a cuff and that results to a full closed system.
Usability
The tube feeder of an explosion-proof design with a bunker in stainless steel design was chosen to suit the specific installation situation and executed as a closed system. This also fulfills all requirements of the ATEX Zone 22. The bunker acts as a buffer and thus enables a continuous dosing into the production process.