SEPEM INDUSTRIES
VRACTECH BULKTECH 2018 Mâcon (FR)
Tuesday, 16 October 2018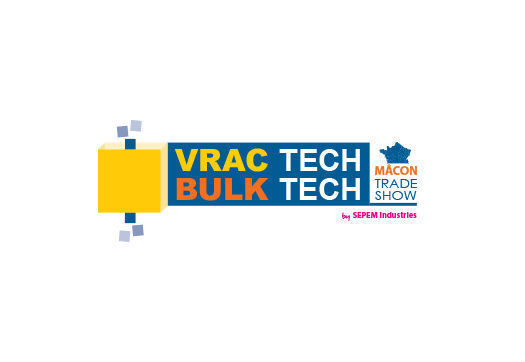 Bulk product management encompasses a wide range of activities for which the technologies and normative frameworks are rapidly changing: safety, connected machines, yield... There are solutions to these issues, but they were spread across many sources, trade shows and symposiums that were difficult to get to and often time-consuming.
This industrial event provides a response to all of the issues involved in the day-to-day management of bulk liquid, solid and powder goods, from receipt of the raw materials to weighing, dosing, grinding, conveying, bagging, storage, shipping and transport-…
New: alternating locations
During two successful shows in 2016 and 2017 in Le Mans, the industrial visitors coming from all over France demonstrated that the issues covered by this event concerns all industries, both in France and its neighbouring countries.
Why Mâcon?
This year's show in Mâcon is also designed to make the journey easier for national visitors: 25 min from Lyon by TGV (high-speed train) or 1h by car, 1h40 from Paris by TGV and very easy to get to from Geneva and Lyon St Exupéry airports.
Shuttle services will also be provided for visitors arriving at Lyon St Exupéry airport, and will run continuously between Mâcon train station and the exhibition centre. Mâcon's geographic location will also make the journey easier and quicker for industrialists coming from eastern and south-eastern France, the Rhône-Alpes region and Switzerland.
The two first shows in 2016 and 2017
Following on from the first, highly promising show, the 2017 event benefitted from the current healthy economic climate... with an 8% increase in visitor numbers! While western France accounted for the largest share of the trade show's visitors at 67%, there was above all a sharp increase in the representative presence of industrialists from all over France, with many of them visiting the show over two days.
3,354 industrialists made the journey to the show, clearly with concrete projects for the future in mind. As exhibitors are keen to maintain an excellent "cost to contact numbers and quality" ratio, this third show (the first in Mâcon) will host approximately 294 exhibitors and more than 3,000 industrial visitors who use bulk goods.
Visitor profiles.
3,100 visitors in 2016, 3,354 visitors in 2017 (+8.3%). The business sectors that had the most visits were the agribusiness, animal feed, agri-food, quarries and minerals, chemicals and plastics processing industries. More generally, the representation from all the other sectors demonstrates the general interest of this event for industrialists, whatever their sector of activity.
Free shuttle service every day:
On reservation: Lyon-St Exupéry airport - exhibition centre
Without reservation, continuously running: Mâcon train station - exhibition centre
Your free visitor's badge : click here... ...
See you soon on VRACTECH BULKTECH trade show, in Mâcon!
PRACTICAL INFORMATION >> See all the exhibitors : Click here... >> How printing my colleagues visitor's badges? Click here... >> Booking my place in the free shuttle from Lyon airport : Click here...
This is an activity by SEPEM INDUSTRIES