Ettlinger Kunststoffmaschinen GmbH
Rich in Tradition ad Now With Even More Power: The ERF 350
Tuesday, 19 June 2018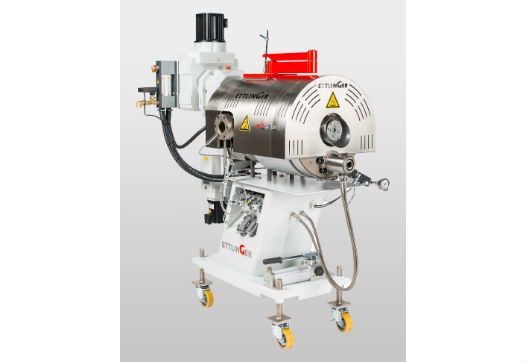 KÖNIGBRUNN (DE) - The ERF 350 continuous melt filter, which enables around 30% higher throughput than the predecessor ERF 250 and heralds in the next generation of Ettlinger filtration systems with several new features.
The filters in Ettlinger's ERF series, nearly 400 of which are meanwhile operating successfully around the world, are used by recyclers and compounders to filter heavily contaminated polyolefins and polystyrenes. All ERF filters are equipped with a conical screen, which is continuously cleaned by a scraper and maintains an absolutely constant pressure. Especially with sensitive applications like film, sheet and pipe extrusion or downstream strand or underwater pelletizing systems, this is a crucial advantage.
Apart from classic recycling of polyolefins in packaging of all kinds, ETTLINGER filters have a unique capability for converting recycled automotive plastics, where paint particles have to be reliably removed from bumpers, for instance. Material flows with a high aluminum, rubber or silicone content, such as the polystyrene in yogurt pots, refrigerator scrap or ABS in electronic waste are other proven applications. Thanks to the ingenious discharge principle, ETTLINGER filters have the lowest melt losses in the industry, no matter how challenging the environment. This, in turn, leads to extremely low operating costs and a very rapid return on investment.
Depending on the application, the screen can remain in use for several weeks, or possibly months, without having to change the filter. And when the time finally comes, this can be done by a single person in less than an hour. Furthermore, the filter screen can be cleaned several times in a pyrolysis furnace before eventually being replaced.
ERF melt filters are available in three different sizes and achieve a maximum throughput of 6000 kg/h.
The melt filters in the ECO series, which are specifically designed for easy-flowing materials such as PET or PA, work according to the same principle and offer similar benefits. ECO filters are the ideal solution for manufacturing PET packaging tape as well as PET films and sheets, for fiber production or for repelletizing materials obtained from PET bottle flake. Compounders, on the other hand, choose ECO filters to separate gels and agglomerates reliably from virgin material. Here, too, the absolutely constant pressure and low material loss – in combination with the completely airtight system – arguments which frequently tip the scales for potential buyers.
Alberto Baracco, who can draw on extensive experience in the Italian recycling market and previously worked for us for several years on behalf of another company, was appointed ETTLINGER's representative in Italy in 2017. ETTLINGER has additionally been part of the worldwide Maag Group since the beginning of the year and profits from its close links with local agents.