Ajax Equipment
Portable Lump Breaker for Food Packaging Specialist, the Alexir Partnership
Thursday, 24 May 2018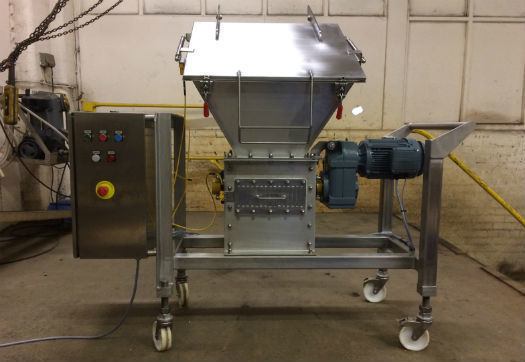 BOLTON (GB) - Solids handling equipment maker, Ajax Equipment, has supplied leading food sector packaging specialist, the Alexir Partnership, with a portable, Model 300 lump breaker including a feed hopper, outlet chute and control panel, mounted on a mobile frame.
"Ajax have been an excellent company to work with, they listened to our requirements, allowed us to visit site and test various existing machines and then built us a bespoke machine exactly to our requirements that performs the required tasks perfectly. It was a please to work with Eddie and the rest of the Ajax team who were profession from start to finish and delivered and quality piece of equipment on a fairly tight deadline." commented Mark Avery, purchasing director, Alexir Partnership.
Ajax lump breakers are an efficient means of size reduction for lumps, caked and bag set materials to a consistent size for ease of processing and handling. Operators will empty a box into the hopper, close the lid and run the breaker with a receiving container in position underneath.
Combining ease of use and operator safety, the feed hopper features a hinged, counterbalanced lid with trip switch to prevent operation of the lump breaker while the lid is open. The Ajax lump breaker is fabricated in 316L stainless steel with a 2B Mill finish throughout. All welds are crack and crevice free, together with FDA compliant lump breaker shaft seals.
"Ajax lump breakers are widely used in food processing where the paddle configuration and rotation speed is optimised to match the material and the degree of size reduction required," says Eddie McGee, technical director, Ajax Equipment.