Ajax Equipment
Bardyke Chemicals chooses Ajax Inclined Screw Feeder
Wednesday, 11 October 2017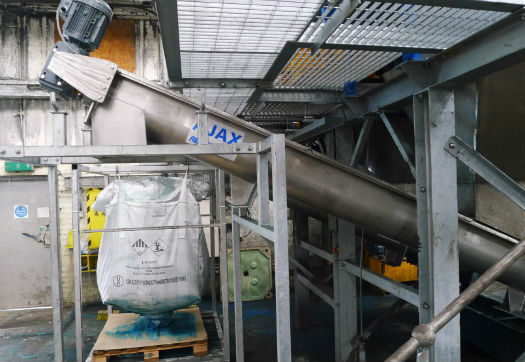 BOLTON (GB) - Solids handling specialist, Ajax Equipment, has supplied copper chemicals producer, Bardyke Chemicals, with a 4m long inclined screw feeder for its factory in Blantyre, South Lanarkshire. Bardyke Chemicals manufactures a range of copper-based chemicals including cuprous oxide and cuprous thiocyanate for applications from marine paints to pharmaceutical production.
The production process requires the Ajax screw feeder to be inclined at 25°. Screws inclined at an angle greater than 20° can lead to material back-spill, increasing the cross sectional loading on the feeder. To prevent back-spill, Ajax has combined specially selected flights and appropriate rotational speed to generate effective conveying, driving the material forward. The stainless steel screw feeder features Lynflow™ ribbon flights with variable pitch. Ajax's Lynflow™ ribbon and paddle flights have been specifically designed to counter the adhesion of materials to the shaft and blades.
"Bardyke has worked with Ajax Equipment on several solids handling projects in recent years, all of which have contributed to the consistency and reliability of our production line. Ajax's understanding of solids handling ensures the material and process are the foremost factors during design, resulting in effective and efficient equipment," said Duncan Norman, Managing Director, Bardyke Chemicals Ltd.