Eriez
Adams Brothers, Inc. Earns Eriez® 2016 Merwin Sales Award
Friday, 29 September 2017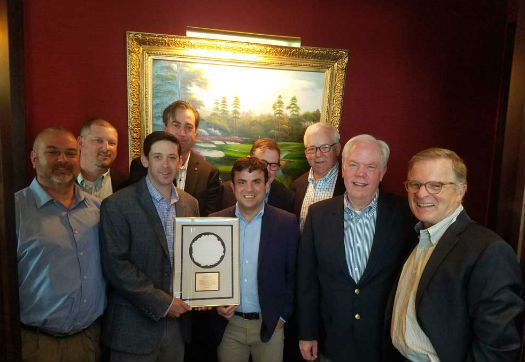 ERIE (US) - Charlie Ingram, Eriez® Vice President of Sales and Marketing, announces that Adams Brothers, Inc. is the winner of the 2016 Merwin Sales Award.
Eriez presents this award annually to honor the U.S. field sales office that represented the company in the most outstanding way over the previous year by demonstrating exceptional sales performance and providing first-rate customer service and support.
Adams Brothers has represented Eriez continuously since 1963. Over the 24 years the Merwin Award has existed, this is the third time Adams Brothers has achieved this recognition. Previous wins for Adams Brothers were in 1995 and 2008.
Adams Brothers was selected from 23 field sales offices that qualified as Merwin Award finalists based on their superb sales performance in 2016. "While the past year was particularly extraordinary for Adams Brothers, their team has been consistently successful throughout our 54-year partnership," says Ingram. "They reliably achieve outstanding sales results while operating with the utmost integrity and professionalism," he adds.
Adams Brothers is headquartered in Atlanta, GA and maintains branch offices in Birmingham, AL, Charlotte, NC and Mount Pleasant, SC. The team includes Steve Middour, Charles Lee, Malcolm Marsh, Brain Stanley, Blake Gordon, Micki Dargan, Phil Croft, Philemon Croft, Jr., Cindy Wood, Toby Harris and Lou Pratt.
Established in 1993, the Merwin Award is named for Eriez' founding family. As expressed on the plaque given to all winners, it is presented for outstanding contributions to the advancement of the ideals and mission of Eriez Magnetics using the Golden Rule as a guide, exemplified by superior sales performance, providing customers high quality service and support, and striving to conduct affairs in an efficient, capable and friendly manner.
Previous Merwin Award winners include: Industrial Motion Technologies, 2015; Industrial Motion Technologies and Dempsco, Inc., 2014; Hareza Technical Sales, Inc., 2013; Hi-Pro Equipment, Inc., 2012; Robertson Equipment Company, 2011; Dominion-Carolina Sales, 2010; Phenix Equipment, 2009; Adams Brothers, 2008; Phenix Equipment and Magnus Corporation, 2007; Dynequip and Solids Technology, 2006; Morris-Coker, 2005; Chicago District Office, 2004; B&H Industrial Products, 2003; SECO, 2002; Merrifield Company, 2001; Merrifield Company and Dominion-Carolina Sales, 2000; Industrial Motion Technologies,1999; Penn Quip, 1998; Jim Ware Co., 1997; Power & Process Technologies,1996; Chicago District Office and Adams Brothers, 1995; Chicago and Philadelphia District Offices (now Penn Quip) 1994; and Boston District Office (now armac, Inc.),1993.