easyFairs Europe SA
Solids Explodes Onto The Scene In Dortmund
Thursday, 04 May 2017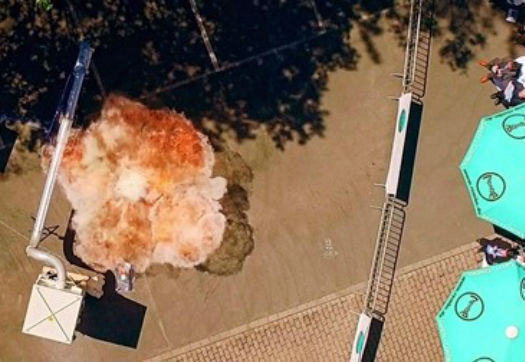 DORTMUND (DE) - The eighth edition of Solids in Dortmund is both a business meeting for the industries as well as an information exchange platform for diverse steps in the processing of bulk goods, whether fine or coarse.
Moreover, the trade show on 10 & 11 May 2017 turns Dortmund into a knowledge hub for innovations, trends and the latest technologies. This is complemented by the extensive show programme, which features 100 lectures taking place on five stages, guided tours around the exhibition and a major industry conference, the German Fire and Explosion Protection Congress. Solution providers and seekers from both near and afar appreciate the compact event – which fills four show halls – for its comprehensive market overview. And some of the topics covered are truly explosive!
"The exhibitors consider it especially valuable to be able to present their latest innovations and solutions to keenly interested visitors," reports Daniel Eisele, Group Event Director and Exhibition Manager for organiser Easyfairs Deutschland GmbH. One of the most popular aspects of the show programme are the Guided Tours, appreciated by both visitors and exhibitors alike. In groups of no more than 20 persons, visitors are taken to targeted stands to see highlights specific to their expressed interest, where exhibitors host them exclusively for up to 10 minutes. Guided Tours will take place on both 10 & 11 May at the eighth edition of Solids in Dortmund. This exhibition covers the entire process engineering value chain and showcases technologies for the processing, handling, storage and transport of bulk granules, powders and solid goods. The tour groups will focus on highlights of dosing, filtering, mixing and conveyance technologies as well as trends in the areas of separating, sorting and crushing technologies.
With 100 lectures taking place on five open stages, the InnovationCenter greatly adds to the event's attractions. In short talks and panel discussions, industry experts will present their latest projects, case studies, innovations and experiments from the fields of bulk goods handling and multi-modal transport of solids. The topics and contributions themselves are selected beforehand by an independent jury of experts, ensuring good balance and thematic relevance. The show explores all aspects of the equipment and process technologies required for the production, material acceptance, handling and processing of bulk solids, as well as the mechanical or pneumatic conveying thereof within the plant. And likewise when it comes to filling, packaging, storage and transportation of those goods to their final destinations.
Explosion demonstrations a call for protective measures
The visitors can also look forward to exciting explosion demonstrations inthe context of the third German Fire and Explosion Protection Congress, with which the IND EX® e.V. promotes the importance of protection measures. The congress is aimed at experts from the area of fire and explosion protection. Interested persons can partake in lectures given by experts with decades of experience in the field of industrial explosion protection. Inspirational and technical lectures, as well as case studies and the latest laboratory results from research projects provide information and discussion material around the important issue of fire and explosion prevention and protection. With its modular design and the extensive show programme, Solids has developed into one of the most important trade shows for granulates, powders and bulk solids technologies