Eriez
New Animated Video from Eriez Features Dry Vibrating Magnetic Filters >>
Monday, 13 March 2017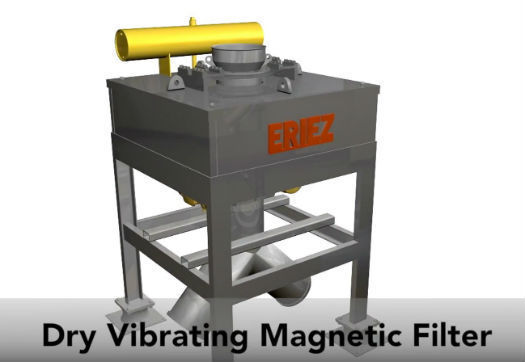 ERIE (US) - A new animated video produced by Eriez® offers an up-close look at Dry Vibrating Magnetic Filters (DVMF), which are used to remove fine paramagnetic contaminants from dry powders for pharmaceutical, cosmetic, abrasives, specialty glass, specialty metallic powder and industrial minerals applications.
This video runs approximately three minutes and provides an animated view of the inner workings of these state-of-the-art filters while in operation. It explains that the exceptionally high-intensity field of up to 5,000 gauss that is generated by the electromagnet facilitates peak separation efficiency.
The informative video illustrates how iron-bearing contaminants are captured as material flows through the magnetized elements, resulting in a high-purity product. The closing animation demonstrates the simple steps for cleaning the magnet.