NürnbergMesse GmbH
POWTECH 2016: Extensive Supporting Programme Offers Ready-To-Go Expertise
Tuesday, 22 March 2016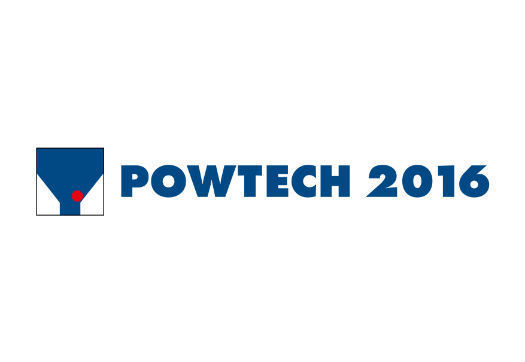 NUREMBERG (DE) - The world of mechanical processing technology will gather at POWTECH 2016 from 19 to 21 April.
About 900 exhibitors will present the latest technologies for processing, analysing and handling powder and bulk solids in Nuremberg. Visitors will also have free access to an extensive supporting programme, providing them with first-hand access to the latest process expertise. The VDMA (German Engineering Association) will present best practices in eco-efficiency through its Blue Competence Initiative. Trade visitors will encounter concentrated university research and new talents at the Generation Future special area. The new POWTECH app will help to find personal highlights in the programme.
Three trade forums with non-stop presentations in the exhibition halls reflect the wide range of sectors and topics at POWTECH. The special areas organised by associations and high-calibre partners at the exhibition also invite visitors to linger, network and exchange knowledge.
The VDMA: Innovation for greater sustainability
The VDMA, represented at POWTECH by its Drying Technology and Air Pollution Control associations, will highlight its Blue Competence sustainability initiative at the exhibition. Visitors to the VDMA stand will find exhibits and success stories showing how process technology helps to foster more sustainable processes that conserve resources. The VDMA and participating companies span the entire exhibition with the Blue Competence network: a special exhibition guide lists all POWTECH exhibitors supporting the initiative and helps to find sustainable solutions.
Expert knowledge to take home
The three presentation areas in the POWTEC exhibition halls will offer non-stop presentations, many of them in English. The 30-minute slots and panel discussions will address current topics in the industry in a useful, compact format. The Pharma.Manufacturing.Excellence expert forum (hall 3A), organised by APV (the International Association for Pharmaceutical Technology), will focus on trends and challenges in pharmaceutical manufacturing, including continuous production, tabletting and testing, 3D printing and serialisation. The POWTECH Expert Forum (hall 2) will provide non-stop presentations on process automation, particle analysis and measurement technology. This is also where the new POWTECH Awards will be presented in three categories: technology, energy excellence and service. In the POWTECH Technology Forum (hall 3), visitors will receive practical tips about handling bulk solids in the food, chemicals and pharmaceutical industries.
A bridge to research and new talents
A total of 15 universities, institutes and institutions will present their research projects in the new special area Generation Future at POWTECH and will provide information about partnerships. Here companies will meet the talents of tomorrow and can recruit new professionals thanks to a constantly updated job board. The DSIV (the German Powder and Bulk Association) invites visitors to network in a relaxed, student atmosphere every day at 16:30.
Experience explosion protection live
The international IND EX Safety Congress will be held at POWTECH on 20 April 2016. Explosion protection experts from all continents will be on hand to explain different legal requirements by region and the latest approaches for greater explosion protection. On all three days of the exhibition, visitors will be able to experience up close how quickly gas or dust explosions can occur during production and how they can be prevented during moderated live explosions in the outdoor area of the exhibition.
Summit meeting for process experts
For the first time, POWTECH visitors can use an app to find out information and the times of all presentations and compile their own personal schedule using their smart phone. If desired, the POWTECH App can remind visitors of selected events at the exhibition and help visitors to find their way around thanks to an interactive hall plan. "In 2016 we are raising the visibility of POWTECH's high-calibre programme. Nowhere else do so many experts from the bulky solids and process industry meet in one location," notes Beate Fischer, Project Manager for this event at NürnbergMesse. "Every trade visitor will go home with a wealth of new knowledge – and can start afresh with very tangible solutions and ideas after visiting the exhibition." Visitors can also find details of all presentations and speakers in the POWTECH programme by visiting: www.powtech.de/programme
The latest developments in particle technology
Alongside POWTECH, the Nuremberg Exhibition Centre will also be welcoming PARTEC, the international congress for particle technology. PARTEC brings together leading particle engineers and scientists to share knowledge about the latest developments in particle formation, agglomeration and coating processes as well as measuring techniques and various industrial applications for particles.