easyFairs Europe SA
Over 1000 Decision Makers at SOLIDS Basel 2015
Wednesday, 13 May 2015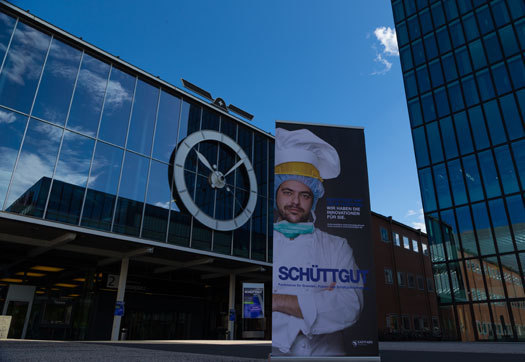 BASEL (CH) - Fourth edition reconfirms event's position as Switzerland's leading trade show for granules, powders and bulk solids technologies.
On 6 & 7 May 2015, over 1000 trade visitors took advantage of the fourth edition of SOLIDS Basel to inform themselves on the latest trends and developments in process engineering for granules, powders and bulk solids, as well as to look for technological solutions. The two days of the show were marked by palpable good spirits at the 83 exhibitors' stands. A particular highlight was the interesting and highly relevant show programme, featuring an intensive workshop by IN DEX® e.V. on explosion protection; expert lectures on the topic of recycling technology, hygienic design and solids technology; and exclusive product presentations during the guided tours.
"We are very satisfied with the 2015 show. The market feedback has been extremely positive, especially regarding its compact format, which provides plenty of opportunity for intensive networking, concentrated technical discussions and well-founded information exchange at the decision-maker level; both visitors and exhibitors appreciated that," summarised Easyfairs Event Director Daniel Eisele. "We closed with very good results." The show's popularity in the industry was evident in the interest expressed by the exhibitors for the next SOLIDS Basel, which will take place on 16 & 17 November 2016. "Even now – some 18 months before the next edition – quite a few of this year's exhibitors have already signed up," reported Daniel Eisele. Easyfairs Managing Director for the DACH region, Siegbert Hieber, added: "Swiss decision makers have long considered SOLIDS Basel their central meeting point, but over the course of the 2015 show the event has only risen in their estimation." This is one reason why many of the exhibitors take part not only in Basel but in several of the other SOLIDS shows throughout Europe as well. "With its SOLIDS European Series – Europe's largest group of trade fairs for bulk material technologies with shows in Antwerp, Basel, Dortmund, Rotterdam, Krakow and St Petersburg – Easyfairs offers export-oriented companies a host of international sales platforms," said Hieber.
The top Swiss event in Basel was once again focused on the working and converting of granules, powders and solid goods of every conceivable kind. The show featured machines and technologies for receiving, handling and processing incoming goods, for in-house procedures and warehousing, as well as for external and internal transport flows.
SOLIDS Basel 2015 also scored points with its programme of specialist and expert lectures. The presentations at the InnovationCenter were well attended. The visitors benefited from over 20 compact talks on current and practical topics from the focus areas of "Fire and Explosion Protection", "Hygienic Design", "Recycling Technology" and "Solids Technology".
Stefan Penno, president of the IND EX® Federation, summed up his organisation's first participation at SOLIDS in Switzerland: "The intensive workshop on fire and explosion protection was very well received by the Swiss trade show visitors and generated positive feedback from everyone involved, whether presenters or members of the audience. We are planning on coming back to SOLIDS Basel next year." The speakers were able to assume an elevated degree of technical knowledge among the attendees and get quickly to the heart of the matter. Penno concluded, "the safety levels in Switzerland are very high," indicating a pronounced awareness for the protection of people, environment and facilities. In terms of explosion prevention, he considers Switzerland and Germany global leaders. "For both countries it's important to set high standards that are internationally relevant."
The next SOLIDS Basel will take place on Wednesday and Thursday, 16 & 17 November 2016; it is an important component of the SOLIDS European Series, which draws 14,000 visitors and 1,000 exhibitors to six top-class venues each year.