NürnbergMesse GmbH
The Hunger of "Raw Materials Man"
Friday, 22 August 2014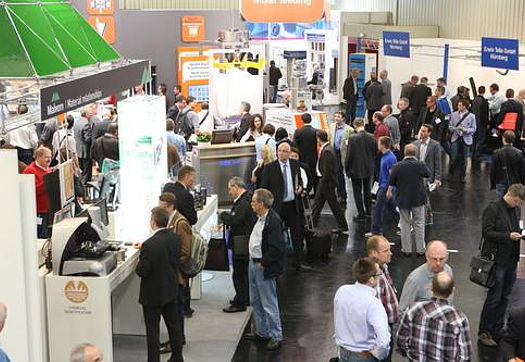 NUREMBERG (DE) - Human development has always been closely linked with mining and processing mineral raw materials.
Without these materials, today we could not use the telephone, watch TV, generate electricity or drive cars. So it's no wonder that the industrial processing and refinement of minerals and rare earths is a crucial factor in many sectors. From 30 September to 2 October 2014, more than 700 exhibitors from 26 countries will again be coming to POWTECH, the world's leading trade fair in its field, to show the world's broadest range of technology in all aspects of processing and analysing powders and bulk solids for cost-effective plant operation in the construction materials, recycling, stone and ceramic industry. Visitors can buy tickets from 19 August 2014 at www.powtech.de/ticketshop. Buying tickets online gets you into the trade fair faster and lets you bypass long queues at the box office.
We are more reliant than ever on using mineral raw materials to produce virtually every item in common use today. As the particles used become finer and finer, the requirements for handling them become more and more stringent. Particularly in storing, conveying, unloading and measuring these products, strong inter-particular adhesive forces can interfere with the flow of powder. In storage in silos, bridging and rat-holing can stop the particle flow. Metering powders continuously at constant density is an acute problem that can no longer be solved with a "silo hammer" alone.
Innovative developments to solve these problems will be on display at POWTECH 2014, the world's leading trade fair for processing, analysis and handling of powder and bulk solids. About half of the more than 700 exhibitors will be showing solutions for storing, discharging, and metering powders, bulk solids and granulates. Mechanical and pneumatic equipment to improve flow behaviour even of heavy powders will be on display in Nuremberg, as will new bridge breakers and discharging equipment and aids.
Intralogistics for bulk solids
The broad variety of characteristics of bulk solids not only makes them harder to store, transport and discharge, but makes gravimetric measurement especially difficult. This procedure calls for a dosing device, a scale, and appropriate controls. The picture is complicated even further by the very diverse characteristics of bulk solids and an industrial environment that is generally hard on weighing processes.
Solutions that are right for critical minerals, as well as many other applications, will be shown at POWTECH by some 120 exhibitors who concentrate on gravimetric metering. They will be joined by more than 70 vendors of weighing equipment, offering such products as load cells, balances, weighing systems and weighing stations. The range on view at POWTECH is supplemented with the latest solutions for volumetric metering, presented by some 120 exhibitors. Another roughly 150 exhibitors will be showing new developments and refinements in conveying bulk solids, powders and granulates.
At POWTECH 2014, systems planners and operators, as well as process engineers in the mineral materials, ceramics and glass industries, can find a complete overview of further developments and innovations throughout the field of bulk solids intralogistics.
Not a dusty old theme: Safety technology
At POWTECH, process technicians and systems planners will find not just the latest trends in process and production optimisation, but also a focus on plant safety and explosion prevention. So many materials are processed in powder form during production processes, or finish processing as powders or granulates, that dust can very readily increase safety risks all by itself.
The group of safety technology providers, with around 350 exhibitors, is one of the most important at POWTECH. More than 200 of these exhibitors will be showing innovative solutions for electric and non-electric explosion protection. A whole special forum on the second afternoon of POWTECH will even be devoted to all aspects of efficient explosion protection. Technical presentations on fire and explosion protection will be followed by a panel discussion and an exclusive guided tour by trade journal publisher Vereinigte Fachverlage. Also worth seeing are the live explosions in the exhibition centre parklands.
Forum on "Gentle conveying of solids"
It's not uncommon for sensitive bulk solids to be used that must be handled delicately and transported gently, without segregation, from point A to point B. A special lecture series by the Konradin Verlag publishing house on the first day of the fair will provide the POWTECH forum with a complete view of current technologies.
More information for visitors from the professions, along with an extensive exhibitor database with practical search functions, is available at: www.powtech.de
Upcoming events for experts in powders and bulk solids:
30.09.–2.10.2014 POWTECH, Nuremberg, Germany
14.–16.10.2014 IPB Conference & Exhibition, Shanghai, China
18.–20.02.2015 Powder & Bulk Solids India, Mumbai, India