NürnbergMesse GmbH
The World's Leading Powder and Bulk Material Industry Meeting Heads for Nuremberg
Tuesday, 15 July 2014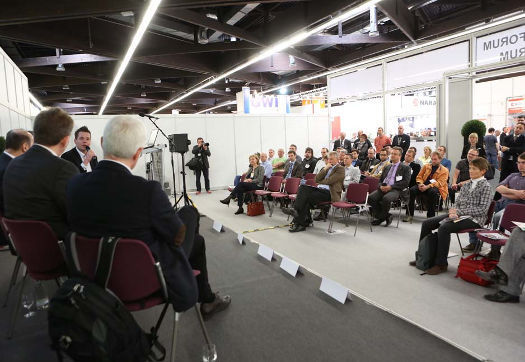 NUREMBERG (DE) - POWTECH is the world's number one trade fair for processing, analysis and handling of powder and bulk solids and the key innovation and information forum for all sectors.
The show focuses on equipment for size reduction, grinding, mixing, fractionating and screening, filtering, agglomerating, dosing, weighing, emptying and filling, as well as the complete particle analysis process. From 30 September till 2 October 2014, more than 700 exhibitors from over 25 countries will once again showcase their entire range of cutting-edge mechanical processing technology. Around another 250 exhibitors will present the latest developments in sterile production processes for pharmaceuticals, food and cosmetics at the parallel TechnoPharm show.
"POWTECH is much more than just a trade fair for the individual stages of mechanical processing," says Willy Viethen, Director Exhibitions at NürnbergMesse. "In Nuremberg, designers and operators of equipment for the powder and bulk solids processing industry will also find a lot of innovative solutions for linking up these process stages."
End-to-end solutions
The exhibitors at POWTECH present technical solutions for all flows of powders, granules and bulk solids within a company, starting with solutions for incoming goods with all options for emptying big-bags, containers, silos and sacks. They also showcase current developments in pneumatic and mechanical conveying such as bucket conveyors, screw conveyors, hoppers, vibrators and belt conveyors as well as vacuum and pressure conveying systems. In addition, more than 200 POWTECH exhibitors will introduce innovations and improvements in filling and bagging systems, palletisers, big-bag filling equipment and other solutions for packing or filling powders and granules.
Automation a key component
POWTECH 2014 will also live up to its reputation as the world-leading trade fair for the bulk material processing industry because it also includes an overview of the entire range of automation technology available. More than 200 exhibitors of automation solutions make POWTECH the standout innovation show for the materials processing industry.
The show therefore accurately reflects the extent to which automation technology is already part and parcel of conventional mechanical processing. Because nowadays, it is hard to imagine operating any materials processing plant without recipe management, batch control, material flow data logging and reliable end-to-end traceability. This is why it is no surprise that the world's leading vendors of field instrumentation or process control technology – such as Endress+Hauser, Vega, Proleit or Siemens – have for many years been using this platform in Nuremberg to showcase their solutions.
Safety and environmental technology always to the fore
For designers and above all operators of powder and granulated material plants, environmental protection, explosion and fire protection, emission control and occupational safety are always a top priority. Dust explosions, workplace concentrations, filter monitoring and particle separation are just some of the key issues that represent a daily challenge for plant operators in the materials processing industry. Around 80 exhibitors at POWTECH 2014 will specifically focus on innovations relating to safety issues.
Highlights from the supporting programme
The trade fair experience includes numerous presentations. On the second day of the show, the POWTECH forum is devoted to the issue of efficient explosion protection. Technical presentations on fire and explosion protection will be followed by a panel discussion and exclusive guided tour by trade journal publisher Vereinigte Fachverlage. Also worth seeing are the live explosions in the exhibition centre parklands.
In addition, a presentation series by technical publisher Konradin Verlag will provide an overview of the technologies currently available to transport sensitive bulk solids from A to B carefully and without segregation.
Interested companies still have until 29 August 2014 to apply for the Innovation Award 2014 conferred by Vogel Business Media at POWTECH. On the second day of the show there will be 90-minute tours for the first time in which the winners and those reaching the shortlist will present their products. Further information on the supporting programme is available at: www.powtech.de/supportingprogramme
Click here for the POWTECH 2013 photos