easyFairs Europe SA
SOLIDS Basel 2013 Was the Ideal Meeting Point for Industry Decision-Makers >>
Wednesday, 11 December 2013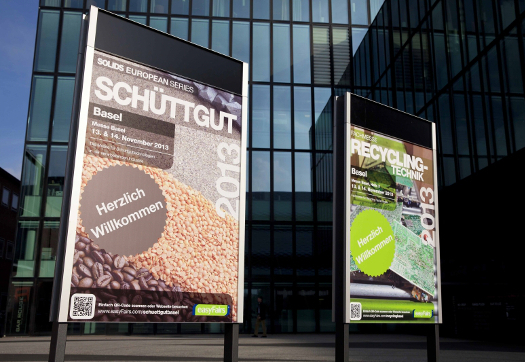 BASEL (CH) - At Solids Basel 2013, which took place on 13 & 14 November, 83 exhibitors made good use of the two-day show to develop concrete sales projects and spend quality time with new and existing customers.
Around 1,000 visitors attended to find out about the latest offerings in solids technology available for process manufacturing and to participate in technical lectures. A business platform that is unique in Switzerland, SOLIDS Basel is internationally networked yet locally rooted – a format that resonates well with industry operators, as witnessed by the positive feedback after this third edition of the show.
Even before SOLIDS Basel 2013 had closed its doors, Event Director Daniel Eisele had already registered pre-book options on 30 stands and received several confirmed bookings for 2015. "It's a clear sign that we're on the right track," he concluded. Between now and the next edition – on 6 & 7 May 2015 in Basel – he announced continuing development of the show content to keep pace with market demands. Two new open forums and a high-CALIBER professional congress featuring executive presentations will join alongside the exhibition program. Stands can be booked any time on the show website: www.easyFairs.com/schuettgutbasel.
Well-informed technical discussions and real business
The exhibitors expressed satisfaction with the show format and reported making numerous interesting business contacts – some of which had already led to concrete orders for new projects. The companies were pleased with the steady flow of well-qualified trade visitors and the generally high level of the technical discussions that took place at their stands. Gottfried Hochfellner, Sales Manager at ProLeiT AG, and Marcel Beer, Managing Director of Müller + Waser AG, summed it up: "At SOLIDS, you meet all the relevant decision-makers in this field." The show's clear and compact layout guarantees that even smaller firms (SMEs) get noticed.
Exhibitor testimonials at a glance (from a survey conducted by easyFairs):
§Alfred Anderegg, Regional Deputy, and Martin Ruckstuhl, Sales Switzerland, Bühler AG (www.buhlergroup.com): "Our impression of SOLIDS Basel 2013 is very positive. We met a wide diversity of customers and were able to make progress on both new and existing projects. We also made quite a few new sales contacts, which made us happy." Martin Ruckstuhl, Sales Switzerland, Bühler AG, continues: "The whole idea behind SOLIDS works well for us. The size is just right: compact. The stands are arranged such that one isn't tempted to try to outdo everyone else; rather, the concept is overall a little subdued. The atmosphere is business-like and not geared toward hype. We really like that about this trade show."
§Heinrich Bürge, Technical Consultant / Member of the Executive Management Team, Kaeser Kompressoren AG (www.kaeser.com): "There was a ton going on at SOLIDS Basel 2013. For the Kaeser company, this is a good way to achieve lots of effect for relatively little effort. That's why 2013 marks our third time participating: In just two days we were able to meet with many suppliers and existing customers, as well as getting in front of new customers. Without this show, that would have cost us quite a lot more work. We're completely committed to the concept of this unique Swiss show."
§Hansjürg Emde, Co-partner, EMDE Industrietechnik (www.emde.de) and Roger J. Bürki, Managing Director, Bürki Ingenieure GmbH (www.buerki-ingenieure.ch): "This was our third time exhibiting at SOLIDS in Basel. And, for a third time in a row, it was a very successful event for us. On the one hand, we had prospects coming up to us with very detailed requests and concrete projects; on the other hand, Basel is just a terrific location for us to reach our existing customer base. Happily, this brisk exchange of contacts taking place at SOLIDS always re-affirms our work in Switzerland and our cooperation with Bürki over the past 20 years. We've already booked for 2015."
§Sascha Strinati, Sales / Product Management, REMA-TIP TOP Vulc Material AG (www.rema-tiptop.ch): "SOLIDS 2013 was, once again, a complete success for us. We had a steady stream of visitors at our stand, among whom were also some potential new customers. The calibre of the visitors to SOLIDS is anyways always top notch – a feature borne out yet again in this, our third year as exhibitors; that's why it's such an important show for REMA-TIP TOP. We'll be back again in 2015."
§Daniel Biller, Sales Product Manager, Gericke AG (www.gericke.net): "The easyFairs trade show concept is quite transparent: very quickly, you're all set up and ready to jump into action! Besides the excellent results we saw in terms of new business contacts, I found that particular aspect a real plus."
§Dirk Röhrig, Technical Field Work, Burgmer Apparatebau GmbH (www.burgmer-armaturen.de): "This year at SOLIDS we were able to make a lot of new contacts and discuss real projects. I think the idea behind the easyFairs shows is great, because here, everyone can present themselves well, no matter how large or small the company is."
§Volker Frommer, Managing Director, Pumpen & Anlagentechnik Volker Frommer (www.pumpe-frommer.de): "The community stand we shared with Burgmer Apparatebau GmbH provided a lot of advantages for us. It enabled us to speak to people that otherwise wouldn't have been aware of our existence."
§Gottfried Hochfellner, General Manager/ Sales Manager, ProLeiT AG (www.proleit.de) and Marcel Beer, Managing Director, Müller + Waser AG (www.mueller-waser.ch): "SOLIDS is uncluttered and tailored to a very specific audience: You meet all the relevant decision-makers in this field. The tight show concept lets us forego building our own stand. That makes a show like SOLIDS good value for the money, and it's focused on a core industry. The topics explored at the show clearly targeted experts. Consequently, the people who came to our stand were predominantly professionals, and the discussions were substantive. We had several concrete project requests with real meat on the bones, as well as some very constructive meetings with suppliers and competitors. The visitors were partly specialists with well-defined needs. We also got very valuable feedback for ongoing projects. And, we thought the Guided Tours were excellent, because you can meet potential new customers, or alternatively, drop by the competition – incognito! We'll definitely be back at the next SOLIDS in 2015 in Basel."
§Andreas Lüscher, Managing Director, LUESCHER Industrieanlagen AG, (www.luescherag.ch): "SOLIDS 2013 went fantastically well for us. The visitors to our stand were excellent: experts with real, tangible challenges to solve. I think we'll probably be back again next time too."
§Walter Schulz, Schrage Rohrkettensystem GmbH, (www.schrage.de): "I really like the idea behind the easyFairs shows, because it's very affordable, even for small to medium-sized companies, and even compared to the huge trade fairs. I think they should definitely stick to the concept and continue to disallow non-standard mega-stands that only push the smaller companies off into the background. We exhibit at all the SOLIDS shows offered throughout Europe."
§René Hangartner, Director of Marketing and Sales, Busch-Werke AG (www.buschnet.ch): "SOLIDS Basel 2013 was very important for us to meet new customers and to present our product palette."
Nationwide Importance
The international appeal of SOLIDS Basel is a feature that continues to be important to exhibitors who focus on exports. The Swiss edition is one of the Solids European Series (SES) shows. With over 900 exhibitors and 10,000 visitors, the SES is Europe's largest series of trade shows for solids technology. Organiser easyFairs is well-placed in the economic region of Basel, which boasts key sectors like chemistry, pharmaceuticals, and food and drinks. "Here in this strategic corner of Europe where Switzerland, Germany and France meet, we have excellent opportunities for cross-border advancement of the topic of solids storage, handling and logistics," remarked Event Director Eisele.
Siegbert Hieber, General Manager of easyFairs Germany, Austria and Switzerland, is the one holding all the reins for the 'Solids European Series'. The reorganisation at the beginning of 2013 that consolidated responsibilities for all shows in the D-A-CH region was undertaken in order to strengthen the markets in Switzerland, Austria and Germany. Intersecting fields were to receive extra focus and, in additional to locally important core topics, overlapping aspects within defined sectors would be highlighted. "We wanted to offer added value, especially for export-oriented companies," explained Hieber in a press interview with trade journalists on the first show day of SOLIDS Basel 2013. Several of those onsite in Basel are already among the ones who exhibit at multiple 'Solids European Series' shows. "Our goal is to support exhibitors by making repeated participation as simple as possible," said Hieber, continuing: "At easyFairs, we employ the same show concept internationally, which lowers the barriers for companies to take part in other countries. They always know in advance what they can expect."
According to Hieber, SOLIDS Basel "plays an essential role" not only within the 'Solids European Series' but also as a central stage for the Swiss market. As far as easyFairs' further plans go, he offered: "The next SOLIDS Basel will take place in 18 months. This schedule has worked very well in other locations, as it gives exhibiting companies the chance to pull together new products and innovations and display them in the most attractive way. It's important for us to create a win-win situation for both exhibitors and visitors."
Informative expert lectures in the learnShops™ limelight
The visitors to SOLIDS and RECYCLING-TECHNIK Basel 2013 showed lively interest in the exclusive seminars presented by top-notch lecturers in the learnShops programme. On the first day, topics included a series of papers on the results of research into the role of solids technology in explosion protection, risk analysis, and affordable safety concepts for day-to-day use. On the second day, the learnShops centred on recycling technology, especially as concerned the challenges and opportunities related to reclamation of building materials. In addition, on both show days presentations were also given that covered the areas of worker safety, maintenance, and innovation.
Guided tours popular among visitors
The guided visitor tours offered at the shows provided attendees with informed insights into a variety of specialist fields. The tours took place on both show days and were focused on either 'mixing and homogenisation' or 'filtering and separating'. Participants expressed very positive feedback on both the guided tours and the show concept as a whole, for example, Christoph Hämmig, Editor-in-Chief, Lebensmittel-Industrie (www.lebensmittelindustrie.com): "I think the guided tours are a great opportunity, both to quickly get up to speed on the background information and, in a very short time, to get an overview of the products and services offered by five or six companies." This was deemed an added value by visitors to the event.
Successful debut of RECYCLING-TECHNIK
Rounding out the offerings on 13 & 14 November was the new trade fair RECYCLING-TECHNIK Basel 2013, which was co-located with SOLIDS. Event Director Daniel Eisele assessed the "feedback from the market" regarding this first edition as distinctly positive. Acknowledging the growth potential in this area, in 2015 the show will be continued as an integral part of SOLIDS and potentially expanded, if the signs are positive. The intervening time will allow easyFairs to research the market even more thoroughly, so that the show content can be evolved correspondingly. The next edition of RECYCLING-TECHNIK will take place on 6 & 7 May 2015, again in parallel with SOLIDS 2015, at the Messeplatz Basel (Hall 2).
SOLIDS Basel is part of the SES – Solids European Series:
SOLIDS Dortmund 2014, 21-22 May, Dortmund, www.easyfairs.com/schuettgut-de
SOLIDS Krakow (SyMas) 2014, 29-30 October, Kraków, www.easyfairs.com/pl/symas2013
SOLIDS Antwerp 2015, 11-12 March, Antwerp, www.easyfairs.com/solids-be
SOLIDS Basel 2015, 6-7 May, Basel, www.easyfairs.com/schuettgutschweiz
SOLIDS Rotterdam 2015, 30 September & 1 October, Rotterdam, www.easyfairs.com/solids-nl