NürnbergMesse GmbH
IPB 2013 - Shanghai (CN)
Tuesday, 15 October 2013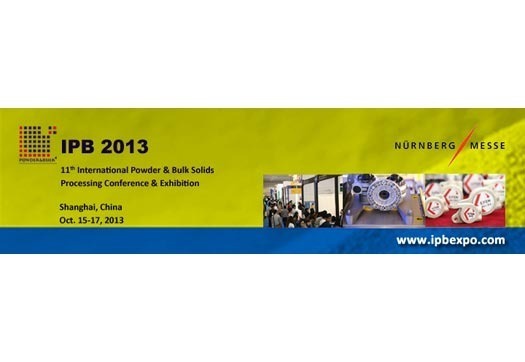 IPB 2013 – Your choice in China
As China's No.1 "one-stop-shop" exhibition for powder and bulk solids, IPB focuses on the whole processing of particle, powder and bulk solids which are required for the production of chemicals, pharmaceuticals, food industries, and also for pigments, dyes, quarrying, building materials and ceramics, etc.,
With the strong supports by POWTECH Germany and with joint efforts of NürnbergMesse China Co., Ltd and Chinese Society of Particuology, IPB is eager to progress and strives for the pinnacle has already became the largest and most specialized international trade fair in the whole field of powder, granule and bulk solids technology in China so far. Meanwhile, IPB is part of a worldwide alliance of International trade fairs and conferences for mechanical process and bulk solids handling technologies, and the network covers all the key world markets in this field: Europe, India and booming China. IPB provides you with the perfect opportunity to see first –hand and cutting-edge technology.
Join IPB 2013 and meet the powder and bulk market!
++++++++++++++++++++++++++++++++++++++++++++++
Click here to see the photos from IPB 2012
This is an activity by NürnbergMesse GmbH