Guerin Systems
Tetra Guerin Vibrating Conveyor Improves Overall Performance
Tuesday, 12 February 2013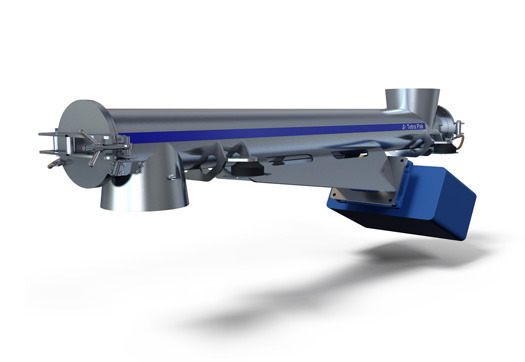 LE MAY SUR EVRE (FR) - Tetra Guerin Vibrating Conveyor is specifically designed to convey and/or dose any type of granulated or powder components over short distances.
Depending on the application, the centre distance can be customized. Maintenance can be carried out easily thanks to the double-door access (one on each side). The fully stainless steel sanitary design is suitable for food, plastic and chemical industry for products with MIE > 3mJ.
Tetra Guerin Vibrating Conveyor can be used for all Food categories but it is not recommended for fluidizable products or free flowing products (for example starch, flour or tapioca dextrine…). Tests can be made in our Test Centre in Le May.
Tetra Guerin Vibrating Conveyor brings a new generation of conveyors that will handle powders or granulated products in a very gentle manner. This equipment offers flexibility thanks to the customized centre distance, depending on the customer application.
Tetra Guerin Vibrating Conveyor design innovation will allow you efficiency and technology improvement (more maniable, more precise…) for a safety installation (no product retention, easy cleaning system, no dust emission…) to preserve food quality.
Improves performance
Secures food safety
Reduces maintenance needs
Ensure optimal product quality
Directives and regulations; Machine Directive 2006/42/CE, Atex Directive 94/9/CE, Regulation 1935/2004, (for door seam) = food safety
Innovation and performance:
More maniable, more precise than a screw conveyor (with electromagnetic motor), mechanical system, easy outflow calculation
Hygienic design (easy to clean thanks to the 2 access doors, all stainless steel…)
No product retention, no mechanical part in contact with the product, gentle conveying
Safety sensor : stops the machines when the door is opened. Ensures there is no dust emission while opening the door + ensures the operator works in a safe environement during maintenance
There is two types of motors for the vibrating conveyor: the unbalanced motor and the electromagnetic vibrator.
Choice is made according to the process; unbalanced motor = for transport, electromagnetic vibrator = for transport + dosing or for multi-products
© Guerin Systems