Mettler-Toledo AG
New Technology Offers Solutions for In-Process and End-of-Line Control
Sunday, 27 January 2013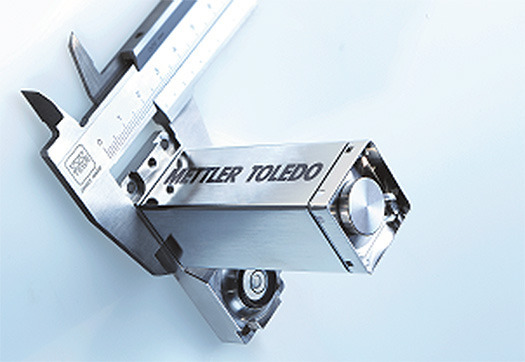 URDORF (CH) - When completeness matters, weighing is a simple solution for quality control. It is an effective and nearly fail-safe method for in-process or end-of-line quality tests. New weighing components allow for a broader application of weighing-based quality testing, including in-line testing with narrow tolerance windows and high throughput rates.
Nature of Serial Production
Take a moment to think about how high-tech devices, such as smartphones can be produced and sold at affordable prices. Low production cost has a lot to do with mass-production, miniaturization and production in low-cost countries. However, this all would not work if there was no dedicated focus on production yield and high-throughput rates. Optimizing yield and throughput rates is a focus for most production managers. Those two criteria are important where products are manufactured with complex manufacturing processes, and when products include expensive materials. They also matter for products sold to competitive markets. Examples of these types of products include ball bearings for the automotive industry, high-precision parts for the medical industry or high-capacity batteries for miniaturized devices in the electronic industry.
Requirements for In-Process Control
For improving yield rates, typically a lot of In-Process Control steps are built into manufacturing processes. At each control point, defective parts are sorted out from the manufacturing process. This stops the addition of value to defective parts. However, End-Of-Line Control tests are even more important, as they prevent defective products being sold. Requiring high throughput rates means that quality tests must be executed at typical intervals of the manufacturing process in order not to slow down the production output. In case quality tests take longer than other intervals in the manufacturing process, the method of spot checking a certain sample is an option. This method works well with failure modes of systematical nature – e.g. a process drift. However, randomly appearing or behaving failure modes cannot be detected with enough security.
As a conclusion, if random impacts are expected, high-speed test steps are required to guarantee the checking of all manufactured parts. Even speed can be optimized if a test step can be performed in the processing line and the parts must not be extracted from the line and handed back to it. For In-Process Control sites like these, small sensors are required in order to fit into limited construction spaces on the line.
It is also important that the chosen method is able to properly resolve the respective criteria much better than the tolerance range at the respective control point.
Eventually, as human errors need to be avoided in serial production (individual bias in repetitive handling), in-line quality control methods will be automated.
Applying Gravimetrical Test Methods
Traditional methods for In-Process Control and End-Of-Line Control use electrical resistance, optical imaging, spectrometry, light beam and mechanical sizing. It wasn't until recently that weighing technology was used in spot-checking mode. This was mostly due to the design of traditional balances and scales, which did not fit seamlessly into machines and instruments. It also was not obvious that dimensions, coatings, shapes or completeness could be indirectly checked while looking at weight deviations or differences because traditional weigh modules didn't provide the required precision in a machine environment. Most importantly, the weighing process was simply too slow.
New Weigh Modules Do It
New technologies have been developed to provide a digital output signal that is easy to integrate into an automation concept. Furthermore, they provide the necessary accuracy with high resolution to reliably test according to the small tolerances of the aforementioned processes.
The picture shows a flow chart of a simplified production process with an in-line test. A weigh module is used before and after the processing step. Specifically developed signal processing enables high-precision weighing even in an industrial machine environment. The same filter type enables extremely fast stabilization times (time from loading to a stable measured value), which allow for throughput rates at 3000-4000uph, depending on the required accuracy range. The new weigh modules have a very high resolution. They can repeatedly and reliably detect deviations as small as 1ppm in less than a second.
Their digital outputs allow for direct control of actuators, such as solenoid valves or communication with Programmable Logic Controllers (PLCs).
Easy to Calibrate
Standards, such as TS16949 and ISO9001, require the periodic testing of quality control devices. The test frequency has to be in accordance with the risks related to the respective control process. Weigh modules are tested with traceable weights to comply with the aforementioned standards. This procedure is easy and inexpensive. In addition, most weigh modules have a built-in calibration weight. This allows for automatic verification of function and precision, plus adjustment if necessary, at any time.
No Defined Position or Illumination Needed
Traditional vision systems and many other non-contacting solutions are limited to inspecting two dimensions only. The nature of their technology requires precise positioning of the inspected part or module to avoid blind corners. For most three dimensional parts there is no vision based solution at all.
Weighing is not sensitive to the position of the inspected part, as long as the center of gravity is more or less in the center of the weigh module's platform.
Changing light conditions, invisible sections and transparent surfaces impose almost impossible challenges for vision systems, light condition whereas weighing is independent of and surface character.
No Engineering or Special Software
Weighing does not need part-specific software. All parameters of the weigh module are laid open and described in the operating instruction. The majority of users implement weigh modules independently after an initial consultation.
The interface command set for the serial interface to communicate with the control system is state of the art. Communication via globally known Fieldbus Systems is standardized and easy.
Application Examples of Weight Based Quality Control
Completeness Check for Solar Cell Manufacturing: Weighing has been applied in solar-cell manufacturing. For the first time, a 100 percent in-process quality control check can be applied.
Non-destructive Test for Surfaces: Weighing can be an excellent method for quality control in surface treatment. It is a non-destructive test for coated and printed surfaces. When it comes to the measurement of subtraction in etching and cutting, there is hardly any method as simple.
Correctness for Complex Shapes: Weighing can check all dimensions of a complex three-dimensional part at once.
That provides instant feedback if a part is correct or if there is a defect and further inspection is needed.
Completeness Check for Modules: It is standard to check-weigh completeness of ball bearings and bushings.
Completeness Check for Kits: Packages with a variety of components, such as mounting kits, repair kits and tool sets or toys have to be complete.
Conclusion
Weighing is a simple solution for in-process and end-of-line quality control. Modern weigh modules are compact and can be incorporated in any manufacturing environment. They can be easily integrated into machines and instruments. There is no need for expensive software or special product engineering. In a fraction of a second, a weigh module can detect violations of weight tolerance as small as 1ppm in an automated process. This high measurement speed enables 100 percent inspection at high throughput rates. Due to the fact that the lighting and positioning of the part does not matter, this method is suitable for complex shapes, hidden structures, material inconsistency, as well as transparent or reflective materials.