ACS Valves
Rotary Valve Selector Gives Specifications for Comparing Over 82 Valves
Friday, 18 January 2013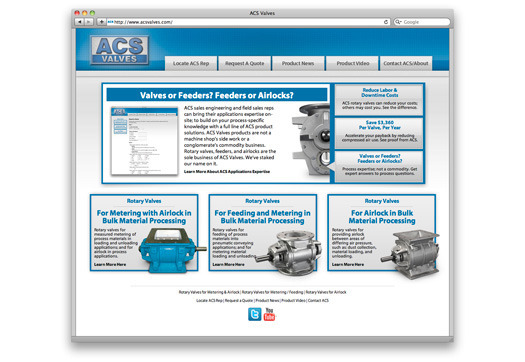 CALEDONIA (CA) - ACS Valves announces the launch of a web-based rotary valve selector tool designed for those involved in the evaluation, comparison, specification, and purchase of rotary valves, rotary airlocks, and rotary feeders.
The ACS Valves web-based selector tool enables users to quickly navigate a selection of over 17 valve models and more than 82 configurations, based on the user's particular application requirements, or the user's specific model preferences. The ACS Valves web-based selector tool also provides downloadable CAD files for the valves, as well as informative video tutorials on topics including: the ACS RotorRail™ Quick-Clean Valve Design; Standard ACS Valve Assembly & Re-assembly Tips; and five other titles.
Users of the ACS Valves rotary valves selector tool can also directly connect with ACS Valves applications and sales specialists for assistance with more in-depth matters relating to ACS rotary valves, or even another brand of valve. For those users interested in securing detailed price quotes for ACS Valves units, an integrated Request A Quote function presents a simple Q&A sequence to specify ACS Valve units for pricing.
Visit www.acsvalves.com to use the valve selector.
© ACS Valves