Port of Amsterdam
The Amsterdam Port Region Showed 1.6% Growth in 2012
Friday, 11 January 2013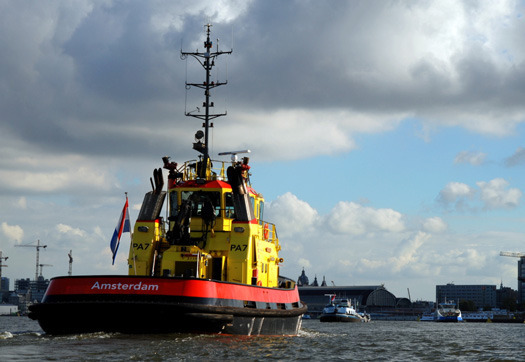 AMSTERDAM (NL) - The ports of Amsterdam, IJmuiden, Beverwijk and Zaanstad closed the year 2012 with a 1.6% rise in transhipment. Total transhipment amounted to some 95 million tonnes, according to the provisional figures.
Despite the challenging economic environment, the port region along the North Sea Canal transhipped more raw materials and goods and achieved a satisfactory annual result.
Amsterdam on the rise
Transhipment in the Amsterdam port increased by 3% compared to 2011, to 77 million tonnes. Import was stable at 50.5 million tonnes in Amsterdam. Export rose 9% to 26.6 million tonnes.
These figures represent a new transhipment record for the Amsterdam port. The previous record dates from 2008, with transhipment of 76 million tonnes.
Fourth port in Europe
Port of Amsterdam's President and CEO, Dertje Meijer: 'Despite the sluggish economy affecting many market sectors, our port again managed to achieve growth in the past year. The 1.6% growth of the Amsterdam port region is therefore a satisfactory result. The Amsterdam port even achieved an increase of 3%. I consider this to be an excellent result, especially in view of the prevailing economic environment. We are the fourth port in Europe, after Rotterdam, Antwerp and Hamburg. I am proud of that.'
Transhipment in Amsterdam
Transhipment of oil products rose 11% to 41 million tonnes. This was partly due to the new Vopak terminal. Coal transhipment remained stable at 15.6 million tonnes. Agricultural bulk transhipment fell some 15% to almost 6.8 million tonnes. Sea container transhipment increased 36% to over 800,000 tonnes. Transhipment of cars and other Ro/Ro decreased 36% to 600,000 tonnes. Transhipment of other break bulk increased 53% to 2.2 million tonnes.
Outlook 2013
The Amsterdam port is expecting a slight growth in transhipment this year. Sea cruise shipping is set to experience another very good year in 2013, with 150 visits and over 300,000 passengers. 2013 will also be a record year for river cruise shipping, with the number of visits approaching 1,500.
Smart port
The port of Amsterdam is the fourth port in Europe, with sustainable growth being its key ambition. Growth ensuring jobs and income and involving smart use of the space available. Growth without affecting the quality of the water, soil and air. Growth that will increase the appeal of the port area to Amsterdam residents and businesses and make them appreciate its assets even more. Port of Amsterdam seeks to achieve this by closely cooperating with partners in the business community, city and region.
© Port of Amsterdam