NürnbergMesse GmbH
IPB 2012: Anniversary Show Sets New Records
Tuesday, 27 November 2012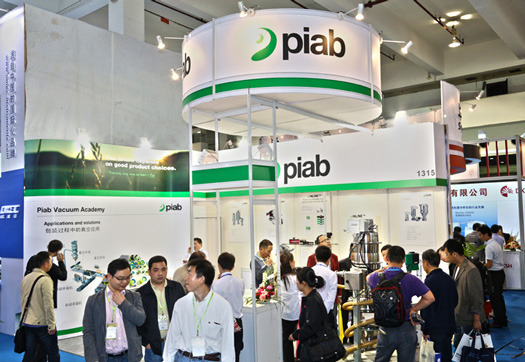 SHANGHAI (CN) - With 162 exhibitors and more than 6,800 visitors from 18 countries (2011: 157/6,214), the tenth annual International Powder & Bulk Solids Processing Conference & Exhibition 2012 exceeded previous numbers in terms of visitors, exhibitors, and net exhibit space.
This demonstrates that IPB is China's largest international event for mixing, conveying, milling, screening, and granulating technologies. The trade show, held October 17-19, 2012 at INTEX Shanghai, is jointly organized by the Chinese Society of Particuology, NürnbergMesse China, and Worldwide Exhibitions Service. The next IPB will take place October 15-17, 2013 at INTEX Shanghai.
Over the past ten years, this event has grown year by year in both scale and influence. And prospects are good that the event will grow even more. "We are experiencing an increased awareness of product quality in Chinese society – not just in the food industry but also in other industries like chemicals, glass and ceramic products, cosmetics, and pharmaceuticals," notes Evian Gu, Project Manager at NürnbergMesse China. "Chinese consumers look more and more for good-quality products. At IPB, manufacturers find the high-quality powder and bulk solids processing technologies they need to meet the increasing demands of their customers," says Gu.
Leading powder and bulk companies from ten countries displayed a comprehensive range of latest powder and bulk processing technologies on 2,254 net square meters of exhibit space (2011: 2,175 square meters), including well-known names like Hosokawa, DMN Westinghouse, Kaeser, and Malvern. Companies from abroad accounted for 17 percent of the exhibitors.
According to exhibitors surveyed at IPB 2012, 88 percent reported that they were able to reach their most important target groups during the event, and 97 percent definitely expect to receive follow-up business as a result of contacts made at the exhibition. Matcon used IPB 2012 to present their Flexi-Batch formulation system. "For us, the IPB is a valuable platform for reaching the Chinese powder and bulk industries. There is no comparable show in China. That's why we will be back in 2013," says Lili Jiang, Sales and Marketing Coordinator at Matcon. Ken Deng, Sales Manager at Rembe China Ltd., had already decided at the 2012 event that the company would be back for IPB 2013: "This is a highly rewarding place to promote our explosion protection concept in the Chinese market."
IPB Loyalty awards: Honoring ten years of partnership
The organizers recognized those exhibitors who have consistently attended IPB for the last ten years. "The steady progress and growth of the IPB over the past ten years wouldn't be possible without the full support of our exhibitors from Day One," said Gu during the presentation ceremony.
The Loyalty Awards honored:
International trade and marketing group DKSH China
Chinese mill manufacturers Zhengyuan Powder Engineering Equipment and MiYou Group
Powder engineering company CHINA SARI-TECH POWDER
Particle-characterizing instrument manufacturer Jinan WINNER Particle Instruments
Chinese producers of particle size analyzers OMEC Instruments and Dandong Bettersize Instruments
Dryer manufacturer Shanghai Ohkawara Dryers
Air-line grinder producer Yingkou Xinyuan Powder Equipment
Pulverizing engineering company Zhejiang Fengli Pulverization Equipment
Highly satisfied visitors with concrete inquiries
Over 6,800 trade visitors and conference participants used China's No. 1 "one-stop shop" for mixing, conveying, milling, screening, and granulating technologies to find new applications for their manufacturing processes.

The visitors travelled to Shanghai from all over China. The show's international
visitors (5.5 percent) came from 18 countries: Denmark, France, Germany, Ghana, India, Indonesia, Italy, Japan, Korea, Malaysia, Russia, Singapore, Switzerland, Thailand, the U.K., the U.S., Hong Kong, and Taiwan.
Visitors represented companies from several industry categories, including manufacturers of chemicals (29.7 percent), mechanical and plant engineering companies (11.7 percent), manufacturers of food and feed (9.9 percent) and pharmaceuticals (9.4 percent), as well as mining companies (6.2 percent). A full 97 percent of visitors reported that they have some influence on purchasing decisions at their companies. According to visitors surveyed at the IPB 2012, 94 percent were satisfied with the range of products exhibitors presented, 87 percent were satisfied with the opportunities for obtaining information and establishing contacts, and 53 percent expressed an interest in using the featured products.
Highlights of 2012
The high-caliber exhibition was complemented by an informative supporting program. Attendees of the INDEX Safety Symposium learned about the most recent explosion-protection solutions as well as impending standards and legislation. One of the keynote speakers was Dr. Zhong Shengjun from Northeastern University of China, a top expert in explosion-protection solutions in China. The symposium was hosted by the International Association of Experts for Industrial Explosion Protection.
Other attractions at the IPB were the Industrial Dust Explosion Risk Management Workshop presented by BS&B Safety Systems Asia Pacific, the Powder Technology and Equipment Symposium hosted by the JiangSu Society of Particuology, and the Particle Analysis and Characterization Seminar organized by the Chinese Society of Particuology.
© NürnbergMesse China Co., Ltd.