Article
Fed Reports Slowdown in U.S. Growth
Friday, 09 September 2011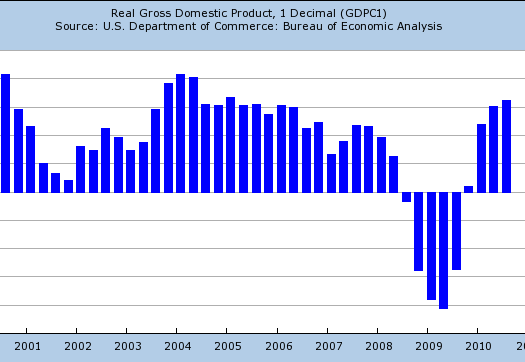 NEW YORK (US) – While the U.S. economy continues to grow, key indicators show that the pace of growth has slowed down, with weaker than expected performance in several districts.
The United States economy continued to expand through the summer, albeit shakily and with mounting signs of decelerated growth across a wide range of industries and regions.
According to the latest Beige Book, the Federal Reserve's regional business survey, economic activity continued to expand at a modest pace in five of the 12 reporting districts from July to August, with growth posted in the St. Louis, Minneapolis, Kansas City, Dallas and San Francisco districts. Meanwhile, subdued or sluggish growth was reported in Atlanta, Cleveland and New York. Growth decelerated in Chicago and Richmond, while business activity was mixed in Boston and weaker overall in Philadelphia.
Market volatility and mounting economic uncertainty were cited as the top factors in downgrading the outlook for some regions and increased cautiousness about the near-term future in others. Signs of the slowdown were seen in manufacturing, residential real estate, construction and lending demand.
"Manufacturing conditions were mixed across the country, but the pace of activity slowed in many districts," the Fed report, released yesterday, noted. "Most manufacturing contacts were less optimistic than in the previous survey; however, future capital spending plans were solid in a few districts."
The New York, Philadelphia and Richmond districts reported declines in manufacturing activity, while Boston and Dallas cited slowing demand from European customers. Manufacturing expanded in St. Louis, Minneapolis, Kansas City and San Francisco, but grew at a slower pace in Chicago and Atlanta. Factory production was "stable" in Cleveland.
Auto production decreased in the Cleveland district due to seasonal retooling, and leveled off in the Chicago district following strong performance in July. The textile manufacturing market weakened in Richmond, and construction-related manufacturing was characterized as weak in the Dallas and Philadelphia districts.
"On the flip side, businesses did report more consumer spending, solid tourism activity and higher auto sales," CNN Money reports. "They remain wary, however, that consumer confidence is falling due to wild stock market swings, which could soon take its toll on demand for goods and services."
Commercial aircraft production has grown in the San Francisco district due to strong new demand and a growing order backlog, and capacity utilization in the steel industry remains at record-high levels in Chicago. Most regions reported an increase in auto sales, despite lingering supply disruptions from some Japanese companies.
"The report covered about half of the third quarter, a period marked by Washington political gridlock over huge debt and deficits, an 11th hour deal in Congress to avoid a default on sovereign debt, and the loss of the United States's coveted triple-A credit rating in a downgrade by Standard & Poor's," Agence France-Presse reports. "The world's largest economy nearly stalled in the first quarter, growing only at an annual rate of 0.4 percent, and posted a tepid 1.0 percent expansion in the second quarter."
Although there were several seasonal issues that negatively affected the economic outlook in the past two quarters, Fed Chairman Ben Bernanke has said that "'only a portion' of the economy's weakness stemmed from temporary factors such as a surge in energy prices earlier this year," according to Bloomberg News. "Persistent headwinds are also holding back the recovery, including high unemployment, tight credit and a flagging housing market."
The Fed found that labor markets remained relatively steady in the latest reporting period, with some districts posting modest job growth. Wage pressures remained low in most regions, but there were some wage increases stemming from rising demand for certain skilled professions.
"Some districts also reported a shortage of skilled workers such as engineers, mechanics and software developers," CNN Money notes. "Other districts said firms are more focused on increasing productivity or opting for temp workers, rather than hiring new full-time staff."
Despite a few promising signs, the national employment outlook remains gloomy following a series of negative job reports in recent weeks. President Barack Obama will outline a major new job creation initiative today, and the Fed will hold its next policy meeting later this month.
"Many economists think the U.S. central bank, which eased monetary policy in early August by stating that it expected to hold overnight interest rates near zero at least through mid-2013, could ease further at its next meeting, on September 20-21, despite clear divisions on its policy committee," Reuters reports.
Source: http://news.thomasnet.com (by Ilya Leybovich)