Mettler-Toledo AG
When Only The Best Will Do
Friday, 10 August 2012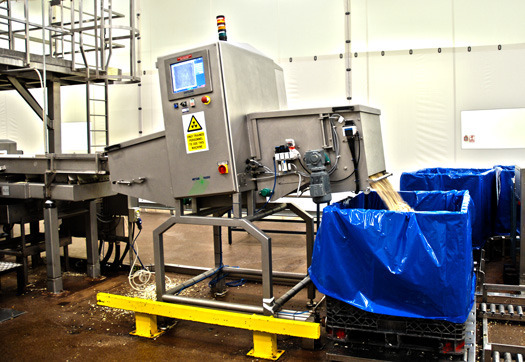 CONGLETON (GB) - John Morley Importers Ltd, a leading supplier to the UK bakery, cereal and food service sectors, has tightened its contamination detection capabilities by installing a bulk flow x-ray inspection system at its Cheshire plant.
John Morley imports premium quality basic ingredients including whole fruit, berries, raisins, dates, coconut and nuts for cakes, pastries, breakfast cereals and confectionary products. Quality is considered paramount and its products are sourced from the best producers and growers in over 20 countries around the world. One of the final stages in this quality control is checking the products for contamination by foreign bodies like metal, stone and glass prior to packaging.
High profile = high standards
As a supplier to high profile customers within the food sector, John Morley was required to tighten their contamination detection capabilities. Being a METTLER TOLEDO customer for a number of years and having purchased several of the company's highly acclaimed Safeline metal detectors, John Morley was already highly satisfied with the levels of technology, reliability and service provided and therefore approached METTLER TOLEDO for options for x-ray inspection.
An inspired solution
The solution for John Morley was an InspireX R40B bulk flow x-ray inspection system – part of METTLER TOLEDO's Safeline range. The InspireX R40B is specifically designed to detect and eliminate foreign bodies from bulk fed food products like fruit, vegetables and cereals. Situated following a vibratory-fed metal detector on a 600mm wide conveyor belt, the unit inspects 6 tonnes of product per hour at speeds of up to 120 meters per minute with multi-lane reject.
Sealed to IP65, the InspireX R40B has the highest hygiene standards in the industry, ensuring fast and thorough cleaning. Its hygienic design also offers greater assurance that the line is free from bacteria, with IP69K available as an option. Extremely simple to set up and operate without requiring an engineer, the unit has low energy requirements and offers full traceability via a unique sign-in and event log system.
Product safety guaranteed
"At John Morley a key objective is to ensure nothing less than the highest levels of product safety," explained Technical Manager Simon Brown. "We found the METTLER TOLEDO Safeline x-ray equipment has provided us with exceptional capability in identifying and rejecting foreign bodies within our imported food ingredients. The InspireX R40B x-ray system was the most cost effective solution for our processing plant and its installation has helped to eradicate complaints, minimize wastage and increase productivity thus helping to put us ahead of the competition."
Automated technology
Automated x-ray inspection technology is growing in popularity in the food processing industry because of the real advantages it offers compared to other types of inspection. It also complements and extends established technologies such as conventional metal detection and checkweighing systems with a broad range of additional inspection capabilities. The technique measures the amount of x-ray absorption through a cross section of the product. The amount of absorption is related to product thickness, density and chemical composition. This allows dense contaminants to be detected, as well as checking for product defects.