Offered: No-Wear impact plate
Nico Van Gink from Van Gink Trading BV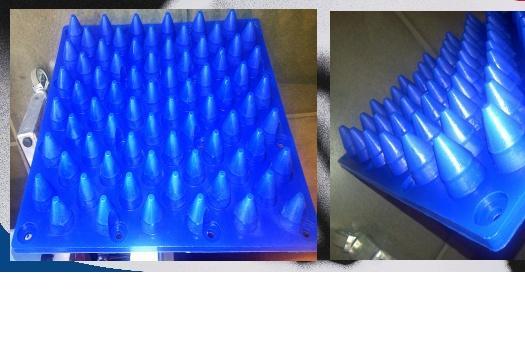 ZEVENBERGEN – The NO-WEAR impact plate is a polyurethane plate with conical bosses and is to be mounted in crossing points between two conveyors, in the impact area of a screening machine, on the walls of storage tanks or on other impact points.
The effect is reducing the speed of the material and protecting the following belt from impact damage and rolling of the material wich causes tear and wear of the belt.
This impact plate made of highly wear resistant polyurethane has conical points/bosses that, when filled with material, create a surface that renews itself continuously because the material sticks between the points. This prevents the plate itself from wear and it diminishes the sound.
Characteristics:
Ideal for gravel, sand, coal, rubble, powders, minerals, stones and others.
Simple installation by 10 mm bolts .
Hardness : 90° shore A.
Material : Tear, wear and cut resistant Githan polyurethane.
Thickness plate including bosses : 60 mm.
Dimensions plate : 457mm × 457 mm.
Larger areas possible by mounting more plates
Principle: material on same material = No-Wear!!.